How to start an Art Business this 2023?
15 March 2023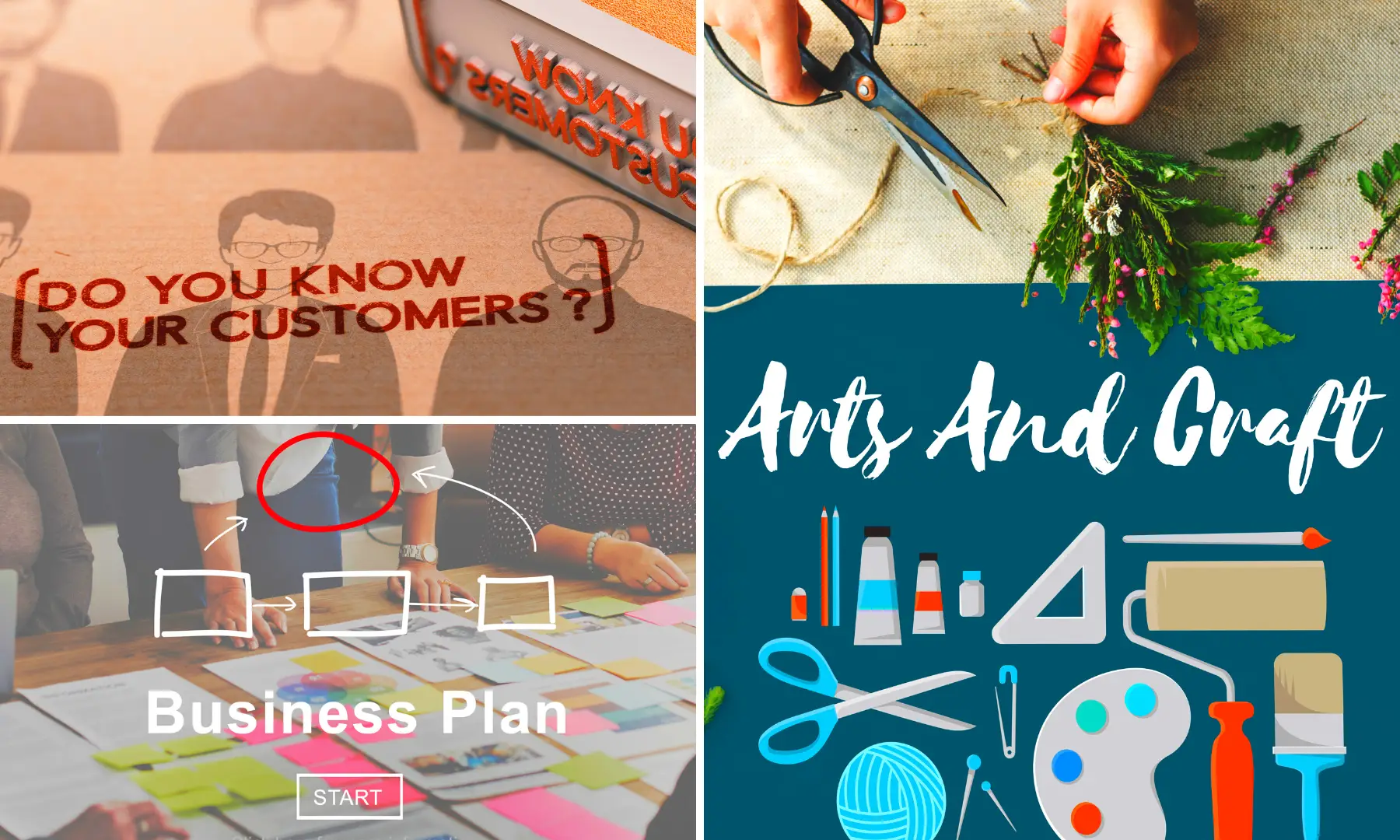 Are you among those people who love arts? Of creating? And are you toying around the idea of establishing your own art business in your head? The idea comes to your mind occasionally and you brush it off, because it may be too scary of a thought. Some of the questions that stop you are: Could you possibly make a decent living off of your artwork? Could you turn this love of work into something viable, to help financially support yourself, and your loved ones? It's a mind-altering thought when it first comes to you, and you don't really know what to think about it. But what if you try?
First thing firsts. You need to believe in yourself and your abilities, and that's the all-important first step. Because many artists let excuses and fear—fear of the unknown, fear of taking risks, fear of failure. These fears stop them from even trying. But remember, you have one life! You must need to make it count. Starting your own business is not impossible! It will take planning, time, effort, dedication, and a devotion to lifelong learning.
What is an Art Business?
An art business can be in many forms. It could be music, composing, graphic or interior designing, and fashion among others. The most common art businesses we can find in the country are focus on small art in mediums such as graphic design, calligraphy, and photography, just to name a few.
What are the Best Art Business Ideas?
There are several types of craftsmanship, some are more expensive and lucrative than others. The principal thing you really want to be familiar with how to begin an art business is whether your specialty, basically your art form, has sufficient appeal to the market before it could possibly be a productive business.
Hence, before quitting your job and starting your art business, ask yourself these questions first:
- Is there a competitive market or enough audience for my art?
- Can I still generate a decent profit by selling my work at a cheaper price?
- What is the saturation and competition in my chosen market?
- Can my art maximize trends without being dismissed as trendy?
How Much Money Can You Earn in an Art Business?
The amount of your income you will yield in your art business depends on how much your work is being paid for and how much you price them. The price of art depends on many factors, including your experience and skills, the medium or style used, the extent and volume of work involved, the cost of materials, the intended use of the artwork, and general costs in creative business.
5 Profitable Art Business Ideas in the Philippines
1. Calligraphy
You can start your own calligraphy business if you have beautiful calligraphy worthy of appearing on T-shirts, greeting cards, posters and the like. Sell your goods with your calligraphy or give calligraphy lessons.
2. Sculpture and Painting
These are two very traditional art forms in the world that will always have a market. As long as we have have blank walls and empty mantels in our houses and offices that decoration, these two will always be on trend. Nowadays, it is more convenient to sell your art to the masses. With the rise of online portfolio and social media, you need not to go to expensive gallery and studio spaces to showcase your pieces. You simply post and market your works online.
3. Tattoo Art
If you are thrilled of the idea of leaving your art work on someone's skin for a lifetime, then tattoo art can be a great business idea for you. Tattoos has continuously gaining popularity and more people are becoming more open of the idea of having tattoos. Being a tattoo artist requires several critical skills and a very steady hand. To start, you can post your artwork on different websites or on your own social media profiles.
4. Graphic Designs
We are now living in a digital world. Hence, digital art is equally crucial. Commencing a graphic design business is a great method to show off your creative juices while also offering a valuable service to businesses. You contribute to branding campaigns by developing logos or social media graphics for businesses, helping design products, refreshing websites, or selling design templates you create. You can also offer a wide range of services — from super fun and creative projects to business-focused sales materials. There is no definitely no limitation for graphic designers to apply their creativity to.
5. Photography
This art form is one that is increasingly appreciated in our social-media-obsessed age. Considering this trend today, you have a range of options for your business. You can sell nature or travel photos to media outlets or tourism businesses; photograph events, including birth announcements, parties, weddings, and more; or work for a product-based business to photograph their merchandises to use on their website or marketing materials. Your options are varied!
5 Essentials Steps on How to Start your Own Art Business
Being a good and successful artist doesn't happen overnight. The same goes for starting an art business. This is how you turn your passion for art into a successful business.
1. Pursue and Develop Your Art
Before you take the chance and start your art business, you must first learn, practice, and create great art that people will want to buy. Without them, you cannot expect to have a successful career in art or start a profitable art business.

Invest in yourself by signing up for classes or workshops. Level up your art by learning everything you can about it. Research and read about it. Follow other successful professional artist making the same art for inspiration, lessons, and advice.
2. Know Your Audience and Marketplace
Just like any other businesses, you need to define your audience and market. Be concise about what type of art you are making and who you are making it for. You need to identify your right market locally, nationally and even globally.
Learn how big your potential market is and who your competition is. You must also know your target market by identifying where your art fits in the art market or where you want your art to be seen—public exhibition spaces like museums and art galleries or in your art studio, online portfolio or on social media channels.
3. Create a Feasible Business Plan
Even a small art business at home needs a business plan. Your business plan is not something you do once and never look at again. It has to change as your business changes. At some point, new challenges and opportunities will arise that you didn't consider when creating your original business plan. For your art business to survive and thrive, you need to regularly review and update your business plan.
4. Choose a Location
Picking the location for your your art business is crucial. You need to guarantee that your business is visible and accessible to your target market by setting up shop in the bustling arts district. Local collaborative artist groups may also offer studio or gallery space, so you don't have to rent out all of your retail or studio space.
If you want to run your art business from home, set up a space where you can create, display, and sell art. Create artwork in your home studio, take a photo, and upload it to your website or online store.
5. Find and Create Opportunities to Exhibit and Sell Your Artwork
This is almost as important as creating the art itself. It's a way to showcase art, grow your fan base, connect with the art community, meet clients, collectors, and other artists.
Leverage the use of art website.
It's important to keep your website updated with new content. Your own space on the internet acts as a "show window" for your art business.
Join online art groups and communities.
Book an exhibit space at an art fair, commission an art store, attend a pop-up and stay up to date on art events.
Share your art on social media sites.
Many Filipino professional artists have started their successful art business by sharing their art online. You can try this strategy yourself as well.
All of these efforts will make it easier for people to see your art and connect with you, the artist. If they like what they see, chances are they will follow you online. It's only a matter of time before fans, followers, and online connections become paying customers.
Even if they don't purchase directly, they can still showcase your art and recommend it to new people. The challenge is to create art they love and can't ignore!
Starting an arts business can be a great investment for business owners looking for new ways to diversify their portfolio. To make it a success, you need to find a location that is highly accessible to your market, especially if you opt to start a small art business at home first. Lumina Homes can definitely help you on this. Our affordable house and lot for sale are located in prime areas where our business-minded homeowners can easily be reached by their clients. We are also the best choice for those who are considering investing in house and lot for in the Philippines but with limited budget as we offer a great deal of payment terms that could help our prospective homeowners. Just reach out to one of our accredited sellers to know more on how to be a Lumina Homes resident.

Try our Home Loan Calculator
Loan Calculator
Try Lumina Homes' loan calculator and get an estimate computation for your preferred Lumina property and home model.