Home Fragrance Tips on Making your House Rooms Smell Good
19 May 2022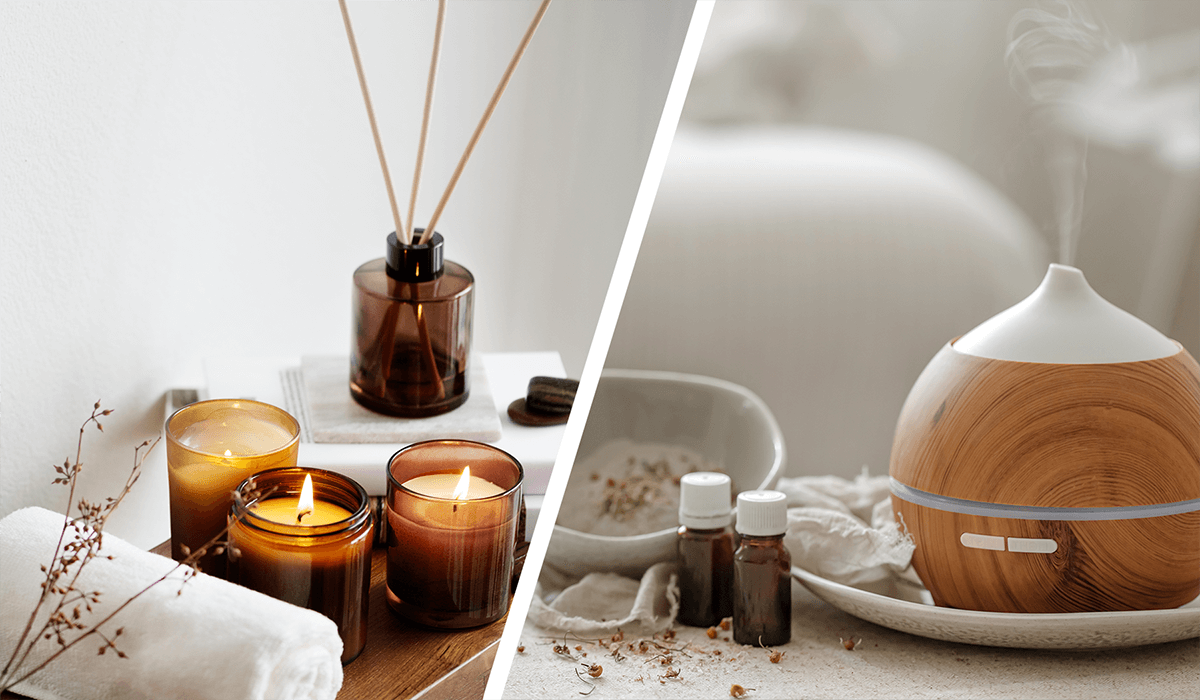 One thing is for sure, just before you open the door, the coziest houses exude an inviting aroma. Even if you consider your house to be comfortable, you may be oblivious to the odors that have built up over time.
When a person smells something, it might bring back memories, elicit emotional reactions, and leave a lasting imprint on them. When it comes down to it, certain aromas are better than others, and that's the truth.
Visitors to your modest residence will be impressed not only by your exquisite interior design but also by your attention to detail when it comes to their sense of smell. On the other side, unappealing scents might turn away visitors, whether they realize it or not.
Natural alternative to make your house smell good
Wouldn't it be wonderful when someone compliments you on the scent of your house? You can maintain your home smelling fresh and clean all year round by following these simple techniques and a little bit of regular cleaning:
For Hallways and Entryways
It's crucial to make a good first impression. The scent of your house is one of the first things that visitors notice when they arrive.
Deodorizing your shoes may be necessary if you notice a stale odor in your foyer. Throw them in the washing machine if they can be washed. If they can't be washed, moisten a cloth with rubbing alcohol and use it to clean them. You can also use vinegar to disinfect your surfaces. Because vinegar is a natural deodorizer, you don't have to worry about the acrid lingering smells after you clean with it.
Recommended scent: Look for smell notes like cedarwood, oud, patchouli, and leather if you want to create an inviting atmosphere. You may also choose smells to fit the seasons. For warm weather, go for lighter, more fresh aromas, while for colder ones, delve into spice, wood, and musk scents.
For your Living Room
There's a good chance this room is one of the most often frequented spots in the home. The most well-known as well. Stagnant, stale air and strange pet urine smell aren't something your visitors want to deal with while they're at your home.
Keep an eye on the carpet. In order to counteract the foul smells caused by pet dander, perspiration, tobacco smoke, and mildew, regular deodorizing of carpets is a need. White vinegar, sprinkle baking soda, club soda, and humidifiers are just a few of the ways to get rid of the smell of the stale carpet. Also, cleaning the carpets with a vacuum might leave a musty smell in the air. Adding a cotton ball with a few drops of essential oils or vanilla extract inside the vacuum bag will help eliminate the carpet smells. Vacuuming may be made more pleasant with the addition of certain essential oil.
Refresh yourself with some natural air, particularly on your living room furniture. Since the Philippines mostly have hot, humid weather, letting in some fresh air into your home is a great way to eliminate odors and stinky smells.
Recommended scent: It's a good idea to have perfume in the living room that makes you want to stay there for a while. To get the most out of your scent, go with something familiar and mild like cotton, geranium, or rose.
For your Kitchen and Dining Area
When it comes to the kitchen and dining area odors, there's a fine line to walk. However, on the other hand, you don't want to hide the aroma of a good dinner and you don't want a food fragrance to remain after the dinner is over as well.
Put citrus peels in the garbage disposal or trash can and grind them up. This will not only clean out your disposal but will also fill your kitchen with the delightful aroma of citrus and chase away bad smells as if you use a spray bottle. In addition, you'll receive your daily dose of vitamin C by eating the fruit that's leftover. Also, you can put a small dish of coffee grinds in the refrigerator or freezer to absorb the odor from last week's leftovers this is on top of cleaning your fridge, of course.
Recommended scent: Use something that matches the culinary setting, such as herbs, spices, or citruses.
For your Bedroom
Humans spend one-third of their lives sleeping, therefore the bedroom is a place to unwind.
To achieve a fresh scent of house smells in your bedrooms, dryer sheets may help keep your home smelling like it just was cleaned all day long when placed in drawers and cabinets throughout the house. Meanwhile, if your garments still have unpleasant odors due to odor-causing bacteria, you may use a spray bottle filled with clear, unflavored vodka to douse them. As the alcohol evaporates, it will remove any unpleasant smells from your clothing or other soft surfaces.
Recommended scent: Known for its capacity to relax and cleanse one's mind, lavender is a wonderful aroma. There are many more fresh flowers scents that may be used to create a relaxing atmosphere and at the same time, smell amazing, like jasmine. When it comes to romantic events, go for something a bit more opulent, like sandalwood or a musky perfume.
For your Bathroom
There should be a sense of peace and tranquility in every bathroom, no matter how little it may be. To make your bathroom more luxurious, consider borrowing a few ideas from your local spa.
To create a spa-like atmosphere in your bathroom, just add a few drops of essential oil to the water. Make your shower feel more like a spa by hanging eucalyptus branches from the showerhead. A hot shower will cause eucalyptus oil to be released and spread throughout the bathroom and into the rest of your home.
Recommended scent: Many people like scents that combine woodsy notes with herbal and citrus notes. An all-natural approach to proceed is to add fresh ingredients from your local flower market—pine, rose petal, and citrus peel.
Other recommended scents for your home:
For your home office:
Want to increase your productivity even while working at home? Here are some fragrances you must try for your essential oil diffusers:
Problem solving: Rosemary, Vetiver, Coffee
Improve performance: Lemon, Jasmine, Citrus
Sustain Attention: Cinnamon sticks, Peppermint, Ginger
Recharge: Pine, Lemongrass, Lavander
For your home gym:
The home gym, in its own way, is a hallowed space where a lifestyle is nurtured. People relax here, focusing on their well-being, self-confidence, and inner power. Citrusy scents like orange, lemon, lime, and peppermint energize the body and mind while exercising weights, for example. Fruity citrus notes of pineapple, mango, tangerine, grapefruit, melon, and pear deliver a burst of energy during strong aerobic and spinning exercises.
Home office and home gym slowly became essential parts of one's home particularly when the pandemic hit the world.
Good news is that it can now be easily achieved in your brand new home with Lumina Homes bigger spaces home model units such as its townhouses, duplexes, and single firewall home units!
Make your brand new house a complete home experience--with home office and home gym included with Lumina Homes. Be part of our sustainable community and make your home reservations now!

Try our Home Loan Calculator
Loan Calculator
Try Lumina Homes' loan calculator and get an estimate computation for your preferred Lumina property and home model.