Free Real Estate Marketing Tools That You Should Start Using Today
25 May 2022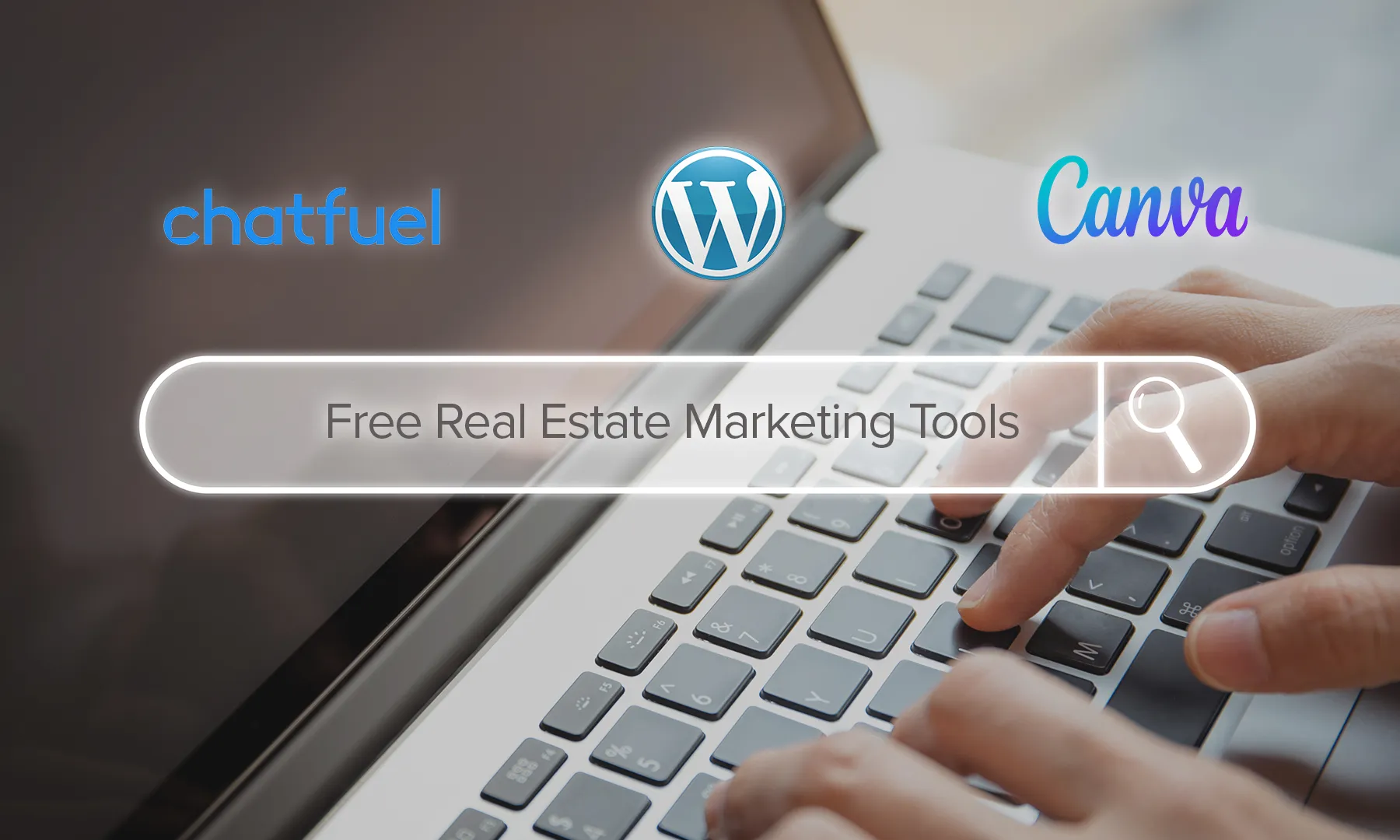 In the last several years, the technologies used to promote real estate have progressed considerably. An appointment was required in the old days to hunt for a "For sale" sign and drive about looking at houses. Things have changed a lot since then.
For real estate agents and agencies alike, the digital era has set out the optimal road to reach the most appropriate audience.
It will be like having a firefighter's ax and a digital marketing toolbelt in the Year 2022. As such, they cannot be undervalued in the quest for efficiency and success. A digital tool might be used to improve every aspect of a real estate company.
It's time to put the past behind us and concentrate on what lies ahead. In light of prominent real estate experts' predictions of a post-pandemic comeback, there's never been a better moment to evaluate your real estate marketing strategy as a real estate agent and prepare for the future weeks and months for your real estate business.
Free marketing tools that real estate agents must use
The greatest real estate marketing tools will be essential if you've already started thinking about your objectives for 2022 and want to be sure you're on the right track. This is why we have compiled and organized some of the finest and FREE tools for real estate marketing to assist you in increasing the online presence of your real estate business as a seller or agent as well as landing that deal to your target client.
Customer relationship management
All of your company's contacts and interactions with clients and prospective customers are managed via the use of customer relationship management (CRM) technology. Simply said, the purpose of this project is to improve the commercial connections of your business. A CRM system can help your business to keep in touch with your consumers, simplify your procedures, and increase your profits.
1. Pipeliner CRM
Pipeliner CRM is a sales-focused CRM. As a result, sales management functionality is already included. If you're in charge of a real estate agency or group, this is ideal for your email marketing. It's also incredibly visually appealing, making it simple to anticipate and strive toward certain objectives. You may just drag and drop chances from one level to the next in order to move between them. It's on our list because Pipeliner CRM is one of the most cost-effective and feature-rich CRMs on the market.
Pro Tip: Qualified leads may be easily tracked using Pipeliner which is perfect for the real estate industry. The pipeline view is a good way to assess how you're doing graphically in terms of lead generation and email marketing; it shows you precisely where an opportunity is in relation to the stage of your sales process at which you're in. Is the potential customer spending too much time in one stage? What is the prospect's worth in comparison to the competition? With the Pipeline view, you'll be able to answer all of these questions.
For $25 a month, you may get started with a 14-day free trial or a basic subscription.
2. Teamwork CRM
Real estate agents on your team follow a set procedure to close transactions. If so, a CRM like Teamwork would be ideal for your needs. Because it's a visual CRM, you can see more information about your leads and prospects or opportunities. For a certain period of time, forecasting tools allow you to make predictions about future sales. Using stage probability, you may provide a value to each step of the pipeline to indicate how likely it is that a deal will close.
Pro Tip: There are high- and low-priority transactions in play at any given time. High priority transactions should take up more of your time — these are the deals with a greater likelihood of closing. The best thing about this is, high priority transactions may be prioritized in Teamwork using an auto-prioritization tool making it one of the finest real estate marketing tools.
Each month, it will cost you $10 per user ($8 if you pay yearly). A quotation request on their website is required to get the enterprise plan. But another best thing about it is you may try it out for 30 days for free.
Website Management
Today, where do individuals go to locate agents? The world wide web. Real estate agents require an online presence because of this. A website management system makes it simpler for a real estate agent to run their own real estate website without requiring any particular expertise.
1. Placester
Customize your own IDX website using Placester. Placester, a real estate website platform, features a WYSIWYG ("what you see is what you get") editor that allows you to construct your own real estate website without any coding. Some of its features are it is not necessary for you to have any prior experience with web design, it has integrated marketing and lead generating tools, and its pricing for independent agents, teams, and brokers is tier-based.
2. WordPress
Millions of websites across the world utilize WordPress as a CRM solution. Real estate agents that want to retain a presence online commonly utilize this tool for lead generation, but it may also be used for other purposes. Some of its features are its templates and add-ons can be used to personalize the design, websites may be launched quickly using this method, and its price is quite low and the assistance is excellent.
Social Media Management
Social media has been a central part of most marketing plans in recent years. It will be too costly for you if you will hire someone who would deal with your social media marketing. So, instead of outsourcing someone maintain and improve your social media presence, you can get an automated service that may be able to assist you instead in your social media platforms.
1. Buffer
With Buffer, you don't have to worry about managing your social media accounts in any way. It is possible to increase your social media reach, automate and schedule posts, and monitor your results using Buffer. Some of its features that can help you out on your social media platform and marketing strategies are your social media updates can be scheduled ahead of time, Your Facebook, Instagram, Twitter, and LinkedIn accounts can now be seamlessly integrated, analyze your interactions with prospective customers.
2. HootSuite
HootSuite offers a centralized location from which you can manage all of your social media efforts on a variety of platforms. Plan your Twitter and Instagram posts, connect with possible buyers and sellers, and improve your real estate website at the same time. This real estate marketing tool can help you out by integrating your social media accounts, you may save time and money in the long run. Also, for fresh marketing ideas, look at the activity and mentions on social media as well as manage and plan your social media updates that can help you grow your business.
Visual Marketing
Design for your business cards, brochures, or Instagram postings is an important factor in catching the attention of your target audience. Your marketing strategy will eventually need the services of a graphic designer. However, if you don't want to spend a lot of money, there are convenient and free tool on how to do it by yourself.
1. Canva
Image editing, banner creations, brochures, social media graphics, newsletters, presentations, picture cropping, and video editing are just a few of the many features that can be found on the Canva platform. Just a few minutes of practice and you'll have high-quality, professional-looking graphics. The most user-friendly graphics design tool on the market is Canva, and it's on our list because of that.
Pro Tip: As a rule of thumb, all designs must have color. Colors have a way of eliciting diverse feelings in people. You want to employ complementary colors to create a sense of balance in your design when you pick your colors. To help you out, Canva compiled a comprehensive list of possible color schemes when you start creating your design.
You don't have to pay a dime to use Canva. Each month of Canva Pro, which is best suited for businesses, costs $9.95 per month for a yearly payment or $12.95/month when paid monthly. As opposed to the free version's more than 8,000 templates, the premium subscription offers more than 60,000 templates for you to choose from. You can even create a brand kit as well if you like. This is essential especially if you want to create a consistent visual identity for your real estate brand.
2. Magisto
In 2020, Magisto was one of the top video applications, ranking as high as one of the top 10. On this list, it's one of the easiest to use and least expensive tools. In order to present your listing in the best possible light, it makes perfect sense to work with a team of expert videographers. However, if you want a high-quality movie in a hurry and don't want to deal with the hassle of editing, you can coveniently turn to Magisto. Storytelling may be enhanced by including visuals, unique effects, and your own brand.
Pro Tip: Make sure to capture the nicest vistas and rooms on camera at the most optimal moment, which is often when they get the most natural light. When you're filming, it's a given that you'll want to open up the windows. Put together your various video content clips with Magisto's help.
The annual basic fee for Magisto is $5 per month. If you would get the professional plan, you can get additional editing options and templates for $10/month (annually).
Chatbots
To simulate a real-life discussion or engagement with a real person, chatbots, also known as "conversational agents," are computer programs that replicate the written or spoken words of humans. Web-based applications and standalone apps are the two basic delivery methods for chatbots. When it comes to interacting with customers, chatbots are becoming more and more widespread, taking on jobs formerly handled by human beings such as Tier-1 support operators and customer satisfaction representatives for local businesses. This can help out many real estate agents in responding to their prospective clients in a timely manner and answering their most frequently asked questions with a lesser effort like they are talking to real estate professionals.
1. Chatfuel
When you don't have the money for an AI bot platform like AISA Holmes, you can opt to choose a non-technical bot builder to connect with your audience/leads. Facebook Messenger and the WordPress chat plugin are the two main platforms on which Chatfuel is used. All of its leads may be re-engaged, meaning you can send them messages either immediately or in a follow up sequence at any time they connect with it. Informing potential customers about newly listed properties is made easy with this handy tool.
Pro Tip: Templates may help you build your chatbots more quickly and easily. In creating your chatbot flow, keep in mind to always consider your final objective when tailoring your approach to qualifying new leads or re-engaging with current customers.
For a simple bot for your real estate website and Facebook Messenger, there is a Free Forever option available. Under this, you can only have 1,000 messenger maximum subscribers on the free plan at any time. For a full-featured bot, you may expect to pay as little as $15 per month for premium access.
As you can see, there are a variety of tools available for a variety of purposes. There's a good chance you'll require at least one app from each of these groups at some time.
Real estate marketing tactics that perform best for you will be discovered through time. Your first step, however, should be to draft a marketing strategy and a marketing plan. From there, you may use this list to locate the tools that will help you achieve your objectives.
In finding a real estate provider that you would like to be partnered with in your business, make sure to choose one that goes with the flow of technology and innovation.
Lumina Homes is one of the top leading and innovative home providers in the country that gives its sellers lots of opportunities in their business as well as career growth through their free online training and seminars.
To know more on how to become a Bida Seller and be a part of Lumina Homes, you can visit our website or the nearest Lumina site in your area.

Try our Home Loan Calculator
Loan Calculator
Try Lumina Homes' loan calculator and get an estimate computation for your preferred Lumina property and home model.