Electric Car vs House: The Battle of Initial Investment
11 April 2022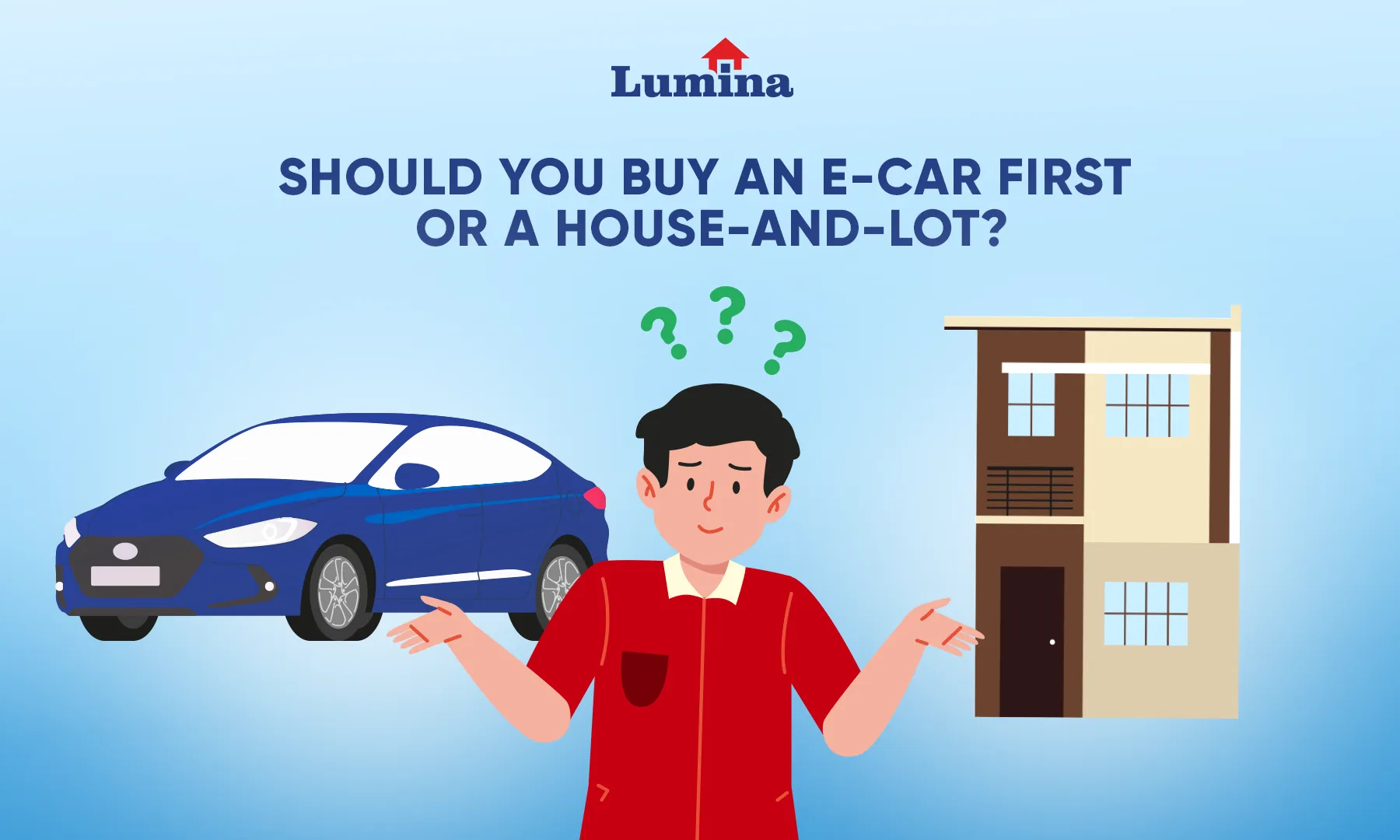 Which should you buy first, a car or a house? We understand, adulting is hard! If you're considering this decision, then perhaps you are at a point in your life where you are ready to make your first investment.
That's why your hard-earned money must be spent on a worthwhile venture. That's why to help you decide, we've collected the pros and cons of both sides, to help you decide on an important matter. In the battle of electric car vs house, which will you pick?
FIRST INVESTMENT: DREAM HOUSE OR DREAM CAR?
In choosing between these two major purchases, you must remember there are several factors that could affect your decision. However, it cannot be denied that both have the potential to either be an asset or a liability. Hence, to help you weigh in your decision, here are some factors to consider before choosing to invest in a risk worth taking.
VALUE
Before you choose between a car vs house, you must determine the value of each investment. How would your life be affected if you decide to choose one over the other? Will this be a long-term use, or for a certain period only? As your first investment, would it open doors for more benefits?
I bet as you read these questions, you already seem to have an initial idea of how your decision will greatly affect your life. However, before you decide, there are other factors to consider. So hang tight, as you visualize getting your dream car or dream house, you better consider the next two factors into your decision.
CONVENIENT LIFESTYLE
Before choosing where to invest your money, you must also consider your lifestyle. How will this initial investment affect your prospects? Aside from the value you will get from individual purchase, how would it contribute in making your lifestyle better?
If you want to avoid using public transport, then perhaps a car is a worthy investment for you. Not only will you get to have personal transportation, you could also use it as a status symbol and form connections and build your network.
For example, using an electric car would allow you to travel to great locations. You can also use it to connect with fellow enthusiasts who admire a limited edition vehicle like yours.
On the other hand, should you prefer a house to spend your money, then you could have the freedom of your own space. You can choose which hobbies and activities to pursue. You can even avoid the worsening traffic conditions, because you can choose the right location where it's easily accessible to nearby highways.
In making a decision between a car vs house, it's important how you will use the said purchase to complement your lifestyle.
FINANCIAL STABILITY
Here's another important factor to help you decide–the financial aspect. Will you be able to get what your money's worth when you pay for it? Remember, your initial investment will affect your financial stability in the present and in the future. Hence, in this great debate, you must consider where you can safely invest.
From a financial standpoint, since this purchase is also an investment, you also have to think about flexible payment schemes. How will you be paying for your investment–will it be through a loan, via a deduction to your income, or from a portion of your savings?
As a financially responsible individual, you must be conscious which purchase would bring more value to you. For you to smartly invest, you must ask yourself, how would this help pay for itself? Or even better, would it help you earn money? You should also check for their interest rates.
In today's market, a more sensible first investment must help improve your credit history and financial standing. Hence, avoid cutting corners and check which property will make more business sense.
DREAM CAR ADVANTAGES AND DISADVANTAGES
Now that you have factors to bear in mind in deciding which property should you buy, then you must discover the pros and cons of each. For your first property, prepare to consider buying a car—an electric car, to be more specific.
PROs of Buying a Car
1. You can manage your own trip.
When you own your own car, you can plan where you want to go, when is the best time to do it, and in which routes you can take to avoid traffic. According to Japan International Cooperation Agency (JICA) the traffic problem in the country costs the economy roughly P3.5 billion daily.
With recent reports, the problem of public transportation in the Philippines has a very little chance to improve right away, that's why most Filipinos choose to buy a new car.
2. You are less exposed to viruses and other illnesses.
Most people have no choice but to take a daily commute for them to get to work. Yet, they would need to abide by the social distancing guidelines set by the government in public transport.
But when you have your own car, you have less chances to contract any form of virus. You can control whom you can interact with, and you can sanitize to ensure that there is less risk of getting the dreaded COVID 19 that could affect you and your family.
CONs of Buying a Car
1. Vehicles–including cars—are considered to be a depreciating asset.
It is an asset, don't get us wrong. However, over time, it depreciates. Even if it's amazing to get an electric car today, it will eventually become a vintage work of art once it's been replaced with newer cars.
No matter how well-maintained they are, cars will reach a point where they will show signs of wear and tear. When cars depreciate, their value also decreases.
A good way to delay it is through constant and proper maintenance. But, are you ready for the financial obligation to maintain a regular car–let alone an electric one?
In fact, a Forbes article considers depreciation as a "motorist's greatest expense". Because as long as the property is in use, you would have to spend in order to maintain it in a good condition. In the same article, it mentions that on average, cars lose 49.6% of their original value after five years of use.
2. Rising Gas Prices will affect your budget.
It doesn't matter if you own an e-car, when gas prices fluctuate or continually rise, other commodities are affected as well, and that includes your expenses as well! You might even have a higher maintenance cost, since yours have a unique mechanism uncommon in our country.
You must also consider other expenses you will incur while driving a vehicle, including insurance, vehicle registration, driver's license renewal, or even settling traffic rule violations.
Have you formed a general opinion about buying a car? Don't worry, after presenting you a car's advantages and disadvantages, it's time to weigh in. Should you choose to own a house and lot?
DREAM HOUSE ADVANTAGES AND DISADVANTAGES
Owning property is no joke. You have to consider whether owning houses is worth taking out a loan, or even borrow money from a family member. To help you decide whether to buy your own home or continue living in property rentals, here are the pros and cons of getting your own house to live in.
PROs of a GETTING a HOUSE and LOT
1. You will get more money in the end.
When you buy properties early, you will get more out of your money. This is because as time passes by, the value of house and lot will rise, even in the midst of economic difficulties. Since it's an essential property for everyone, you will never fall short of demand.
Even if you have to use a loan to buy a pre selling house and lot, it will still be a deal worth investing in because it's a lot cheaper to maintain. You could also earn more should you decide to put it up for a higher resale price.
2. You will improve your credit standing over time.

Because renting out property rentals entails a steady income for you and your family, it could contribute to your good financial standing. When you have a good credit score, it improves your chances to secure other forms of financing, such as car loans or business financing.
3. Your house and lot is preferred rather than a condo or a bare land.
This is according to Lamudi's website 2020 Real Estate Market Review. In the said survey, a residential house and lot garnered 51% more than Land (23%) and Condominiums (18%) in terms of searches. It just means that Filipinos still prefer living in a house, rather than in other forms of dwelling.
CONs of a GETTING a HOUSE and LOT

1. The value of your house and lot depends on your location.
Before you choose your forever home. It pays to research about the infrastructure plans of the area it stands on. Is it near fault lines? What other nearby developments exist in the area? Should you decide to sell it, will you be able to sell it for a higher price?
These are just some things you must think about before settling in. After all, the safety and welfare of your family must be a priority.
2. The financial responsibility you will take on in buying a house.
How will you finance the monthly payments for the house? Will you be able to check if there is an estate tax you need to settle first, before moving in? Will you avail of government-sponsored loan, or do you prefer a bank loan, instead?


A house and lot possesses a greater financial responsibility, that's why you must be prepared to shoulder them in case you choose this as your first property to acquire.


FOREVER HOME: CAR VS HOUSE
With the pros and cons presented, do you now have a solid decision which would you call a forever home? In case you decide that a house and lot best fits you, your needs, and your lifestyle, then consider buying your first property with Lumina Homes.


Choose from 50 key locations nationwide; including Rizal, Bulacan, Pampanga, Bataan, Zambales, Nueva Ecija, Tarlac, Pangasinan, La Union, Cagayan, Isabela, Cavite, Batangas, Laguna, Quezon, Camarines Norte, Albay, Sorsogon, Iloilo, Capiz, Cebu, Negros Occidental, Agusan del Norte, Zamboanga del Sur, Bukidnon, Misamis Occidental, Davao del Norte, Davao del Sur, and South Cotabato to build your first home!

Try our Home Loan Calculator
Loan Calculator
Try Lumina Homes' loan calculator and get an estimate computation for your preferred Lumina property and home model.