Affordable Staycation in Rizal That You Should Try this Summer
1 May 2022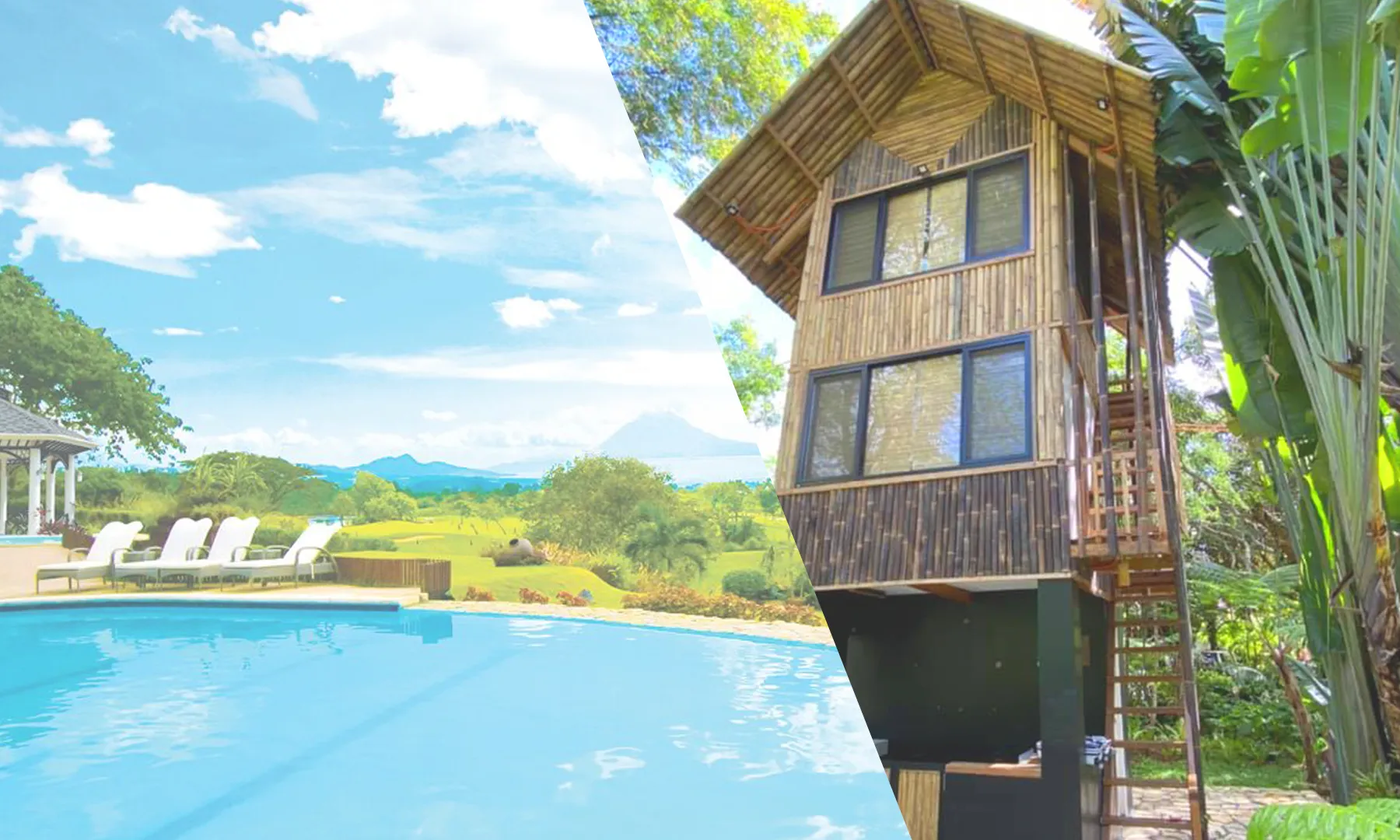 If you're planning a trip to the Philippines, an archipelago of 7,107 islands in Southeast Asia, be sure to stay in the province of Rizal, which is both gorgeous and underappreciated. This province is regarded as one of the best in the country.
Although the beaches of La Union and Batangas, two of the country's best-known coastal destinations, are a must-see for everyone visiting the country, Rizal also offers a variety of staycation places that you, your friends, and your entire family can surely enjoy.
Truth be told, Rizal may not be the first place that springs to mind when you think of a staycation, but it's worth reconsidering. Their cultural sites, mountains, and tourist spots are all worth a visit in the Calabarzon region.
So, if you find yourself in the beautiful Province of Rizal and you're searching for a place to stay, here are a few possibilities that are sure to make an impression on your Instagram feed.
Rizal summer tourist attractions near Metro Manila
Do yourself a favor and plan a staycation in Rizal by checking out these fantastic locations!
Altaroca Mountain Resort and swimming pool (Antipolo, City)
Rizal province's Antipolo is home to Rizal's Altaroca Mountain Resort and Events Venue. Guests may enjoy a garden, a barbeque area, and a swimming pool. Each room features a flat-screen TV, a private bathroom, and a private balcony or patio. Free Wi-Fi is also available throughout the property.
A variety of regional and Chinese dishes are available in the hotel's in-house restaurant. One of the best things about having a staycation in this resort is that the Pinto Art Museum is 2.2 kilometers (1.4 miles) from the site as well as the Casa Santa Museum, which is 1.4 kilometers (0.9 miles) distant. Both of these places are popular tourist attractions in Rizal.
Aside from that, 28 kilometers (17 miles) away from the site is the Manila Ninoy Aquino International Airport, which is the closest airport in the province.
The Grounds Resort (Antipolo, City)
There's a low-key resort on Oliveros Street near the Antipolo River where you may have a relaxing staycation a few hours from Manila! Due to its lush surroundings, guests at The Grounds Resort are transported to an enchanted forest, which gives the resort a genuine rustic atmosphere that is hard to match.
Each of the bedrooms is well designed and equipped with all of the necessities for a relaxing weekend away.
The primary goal of The Grounds Resort is to bring you closer to nature while allowing you to interact with your family and friends. So you'd probably spend a lot of time at the resort roaming about and relaxing in the garden with your pals over a cup of coffee. All visitors have also access to a private pool, where they may cool down in the sunshine with loved ones and friends while taking in the pure, crisp air of the outdoors.
Resort features:
The resort features the famous Hobbit House which is a nod to the enduring popularity of the films The Hobbit and The Lord of the Rings.
Cristina Villas Mountain Resort (Antipolo, City)
This is the ideal getaway for city dwellers wishing for some peace and quiet. The style is influenced by the Mediterranean and combines it with a modern interior to provide the perfect balance of homey comforts and exhilarating experiences. This budget-friendly resort in Antipolo, Philippines, provides a variety of packages for both visitors and events like weddings and conferences.
Date and Dine Resort (Antipolo, City)
For those looking for a non-smoking hotel accommodation located in Beverly Hills Subdivision, there are plenty of options at the Date & Dine Resort. The cost of a single night's lodging might range from Php 2,000 to 3,000.
Outdoor pools, a gym, barbeque areas, and a poolside Italian restaurant are also all available. Some of the Italian meals offered at the restaurant have been adapted to fit the preferences of Filipinos along with their Filipino specialties like adobo and beef caldereta on the menu.
Balai Tanay Bed & Breakfast (Tanay)
In the middle of a one-hectare farm, this B&B is surrounded by nature and the Sierra Madre Mountain Range. Full-board meals and yoga lessons are available at the hotel, which include Vinyasa, Rocket, and Gentle Flow Yoga courses. There are two bedrooms with air conditioning units for six people each, as well as a fan-cooled loft that can accommodate an additional 14 people. There is also a kitchen that is fully equipped with utensils and drinking water.
This B&B is close to attractions such as the Daranak Falls, Tinipak River, and Masungi Georeserve.
Thunderbird Resorts (Binangonan)
Rizal takes great delight in the opulent Thunderbird Resorts. To have the best views of Manila and the Laguna de Bay, the resort is located on top of the Sierra Madre Mountains. An infinity pool, a casino, a golf course, a spa, a volleyball court, a cycling track, and other recreational amenities are available to tourists staying at this Rizal staycation.
Angono Petroglyphs is 10 mins away while SM Taytay is within a 20-minute drive of the property. Meanwhile, getting to Cardona Rock Garden takes around 40 minutes.
Seven Suites Hotel Observatory (Antipolo, City)
There are two air conditioned single beds or a queen-sized bed in the deluxe room, as well as a television, and a bathroom with both hot and cold shower that hotel guests can use. Living room and balcony with city views are included in the executive suite. The Seven Suites Hotel Observatory offers an outdoor pool for children and adults, massage facilities, gardens, and indoor gaming facilities in addition to the telescope on its rooftop. Ramvaldi Pizzeria and Pasta, Hollywood Steakhouse, and Sugar are all on-site restaurants.
LeBlanc Hotel and Resort
There is a standard room rental of about Php 4,000, which includes basic amenities such as air-conditioning, safe-locking space for valuables, TV, desk, and a bathroom with shower. WiFi, amenities, and laundry service are all included. In addition to the indoor basketball half-court, billiard table, and weightlifting equipment, the facility has an outdoor pool and an indoor basketball court.
Antipolo City Commercial Complex, New Antipolo Public Market, Robinsons Place Mall, Antipolo Cathedral, and Hinulugang Taktak are all located nearby this hotel and resort.
These are just some of the great hotels and resorts in the Province of Rizal near Metro Manila that you can surely enjoy. Aside from great staycations establishments, Rizal province is also a perfect spot for your home investment. It's not just near various tourist attractions in Rizal and adjacent provinces, but it is also near the metro!
Lumina Homes, the top leading community provider in the country is offering three subdivisions in Rizal province namely, Lumina Binangonan, Lumina Baras, and Lumina Pililla.
If you have plans to start a real property investment in the Province of Rizal, we recommend making your home reservations with Lumina Rizal as early as now since it is one of the most-demand subdivisions in the country nowadays.
Hurry and visit our Lumina Homes official website to know about the available home model units in these three subdivisions and get your home reservations right away!

Try our Home Loan Calculator
Loan Calculator
Try Lumina Homes' loan calculator and get an estimate computation for your preferred Lumina property and home model.