7 Types of Rest That Can Help You Totally Recharge Your Body
9 June 2022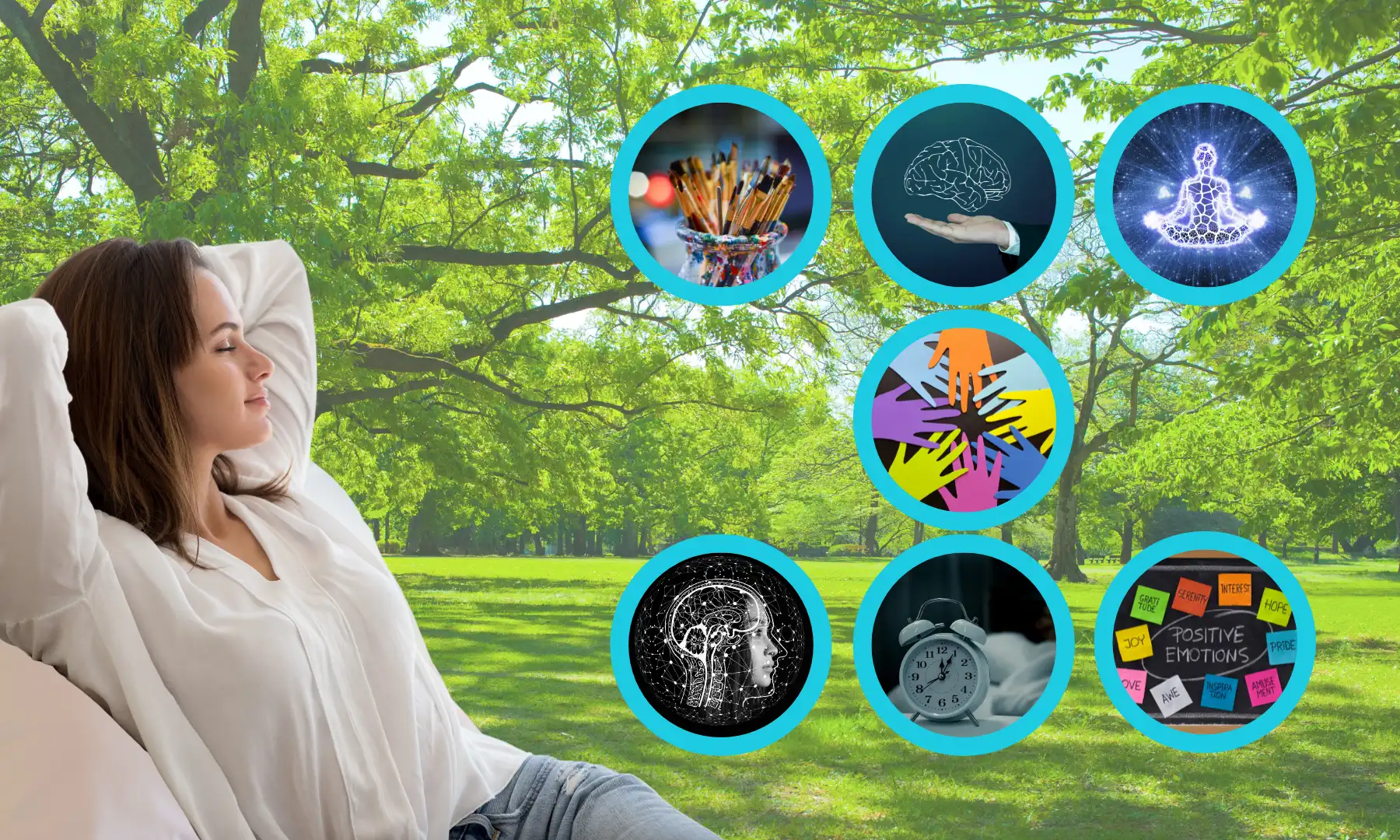 How many times have you attempted to obtain extra sleep in order to combat a persistent lack of energy, only to discover that you are still worn out? If you feel that way, then, you are not alone since sleep and rest aren't the same things and many of us mistake them for as the other.
In most cases, we attempt to compensate for exhaustion by snoozing longer. After all, most of us don't receive the necessary seven to nine hours of sleep every night, so it seems to reason that this would be the case. Nonetheless, how can we deal with the situation when we obtain more sleep, but still feel tired and lethargic?
We assume we've rested because we've gotten enough sleep, but in fact, we're losing out on the other sorts of rest that we badly need to recharge our batteries. In the end, we have a group of people who are really successful and productive, but also quite fatigued and burnt out. We have a rest deficit because we don't appreciate how important rest is.
So, if sleep alone isn't cutting it, try incorporating any of these seven different sorts of rest throughout your day:
1. Physical Rest
The quickest way to identify whether you're running low on physical rest is to pay attention to how your body feels and how much sleep you receive. Pay attention to warning signs that your body needs rest, such as a lack of energy, difficulty falling asleep despite being tired, weakened immunity, and muscle pain and soreness on a regular basis, as well as a dependency on stimulants (such as energy drinks, coffee, and sugar) and a reliance on substances to get more sleep (e.g. alcohol or drugs).
As it turns out, there are two ways to relax physically:
Passive Physical Rest
Two of the most prevalent kinds of passive rest are sleeping and napping. Make sure that you stick to a regular bedtime, keep the temperature at a comfortable level, and caffeine should not be consumed in the late afternoon or evening in order to have a good night's rest. It is the type of physical rest in which you sleep whenever your body wants to. Examples of this are napping in the afternoon and plain old veggin' out.
Active Physical Rest
This type of physical rest is related to any relaxed physical activity that increases blood flow such as walking at a comfortable pace, stretching, massage therapy, and others.
How to achieve physical rest?
Depending on where and how much tension your body is carrying, the sort of physical rest you need will change accordingly but this could be better achieved if you can manage your own time. These days, you can have this work set up by working from home as a freelancer. Lumina Homes is offering job opportunities that let you handle your own time by being a Bida Seller. Aside from having more time for yourself to take on physical rest whenever you need it, you may spend more time with your loved ones as well.
2. Mental Rest
Everyone needs a dose of it right now, especially with all of the stress that we had due to the pandemic and the economic slowdown. It's possible to get mentally fatigued due to a number of factors, such as negative self-talk and obsessive thoughts about the future. A few of the most common factors that you may be in need of a mental break include being irritable or having a lower tolerance for irritation, avoiding activities, and feeling like your mind is in a fog during the day.
The adoption of effective time management skills might help alleviate some of the mental stress. Due to the pressure on our brains or emotions, there are certain activities that don't require a lot of time, but we nevertheless need time before or after the event.
How to achieve mental rest?
It might look like short breaks during work, stream of consciousness journaling, and meditating for a few minutes before or after work but it can greatly help you to fill in your mental rest deficit. This is possible even if you are at home if you have your own personal room in which you can perform meditation to relax yourself. Make sure to get enough rooms for your family with Lumina Homes' Angeli Duplex or Angelique Duplex that gives you and your family enough personal space.
If you can, you can also try to go outside. Lastly, let go of perfection which can be a huge mental strain.
3. Sensory Rest
Giving your senses a breather is what sensory rest is all about. When a person's senses are constantly bombarded with stimuli, they need to take a break.
Consider each of your five senses while composing your thoughts. One might find both benefits and drawbacks to living in a major city. It can be brutally noisy, assault you with an array of smells ranging from delectable to revolting, cram you like sardines in a can on public transportation, and provide something to look at around every corner among the people, cars, buildings, and randomness. Obviously, this may lead to sensory overload!
How to achieve sensory rest?
You can minimize sensory rest deficit if you have rural living. Rural living these days doesn't mean that you are outstripping yourself with the convenience and essentialities of urban life. This only means that you are escaping from all the noise and pollution of the cities.
Lumina Homes are offering over 50 communities nationwide in key cities and municipalities located in the provinces. Due to the strategic location of the projects, residents and future homeowners of Lumina house and lots can still achieve the practicality, accessibility, and convenience of metro living.
Through this, you can easily rest yourself from the bright lights by closing your eyes and finding a quiet spot while putting some headphones in to block out the noise. Also, don't be shy to excuse yourself for a few minutes when you are working. When possible, you should also avoid overwhelming sensory triggers.
4. Creative Rest
Being creatively depleted is something everyone has felt at some point in their lives. When you're feeling unmotivated or creatively paralyzed, you're likely to describe it as a lack of inspiration. Pushing through isn't always a good idea, as anybody who has experienced it may attest to this fact firsthand.
But creative rest is not only limited to artists, musicians, and other creative professions.
To be creative, we must be able to innovate, think beyond the box, or be imaginative. When they are unable to come up with fresh ideas or answers to issues, people need a period of creative rest. The idea here is to eliminate the obligation to create and become engaged in things that excite you.
How to achieve creative rest?
Nature is a great resource to renew that awe in us, to inspire fresh perspective and clarity. Choosing Lumina Homes as your community provider will help you to be near nature and other tourist destinations since our communities are located in the provinces. Whether you want a neighborhood near the mountains or the beach, we have it all for you.
Another alternative is to take this weekend to turn your workspace into a place of inspiration by posting photos of places you love, adding your favorite colors, etc.
5. Emotional Rest
Emotional rest deficit symptoms include excessive worry or anxiety, feelings of self-doubt, and frequent apologies for little faults.
To discover emotional drains and emotional restorers, one must be conscious of one's own emotional state. You should also pay attention to what you're doing and where you are in relation to your surroundings as emotions are infectious. How much time do you spend with people who are often whining or passing judgment? To the best of your ability, you should make these circumstances less conducive to your well-being by clearing out any clutter and practicing stress-relieving strategies in advance.
How to achieve emotional rest?
To rest emotionally, you can spend time with someone you can be your authentic self with, or a group of people who are supportive of what you need. You can also try journaling all your feelings. Try to go to a place where no one knows you such as a new sports team, a gym, a church, a yoga class, etc. and just be yourself.
Getting an emotional rest can be done effortlessly if there are recreational facilities or amenities inside your community. Examples of this are Lumina Homes' multipurpose hall, mini gardens and playground, and basketball court in which you can join various events and activities and a jogging path surrounded by the relaxing lush greeneries.
6. Social Rest
When we can't tell the difference between connections that fill us up and ones that deplete us, we've got a social rest deficit. Also, it might happen if we're spending too much or too little time with other people in social situations. Signs that you have a social rest deficiency include feeling alone, disconnected, unable to establish strong connections, or being drawn to individuals who abuse you.
How to achieve social rest?
Catch up with friends whether in person or virtually. It's you being intentionally engaged or it can also be you spending time alone to rest from people in general. Whichever it is, being in a neighborhood like Lumina Homes gives you the things that you need for your social rest.
Our communities are near leisure places such as shopping malls and groceries as well as cafes and restaurants wherein you can regularly meet and socialize with your friends. We also have eSpacio's Tambayan ni Juan that gives you a chance to meet new people. Meanwhile, if you prefer some breather from socializing, our Armina Single Firewall and Athena Single Firewall units give you space outside your home that you can utilize as a home garden and help you to fill in the social rest that you need. In Lumina Homes, you can do what works for you and be refreshed!
7. Spiritual Rest
There is a wide range of spirituality. Members of a religious faith can engaged themselves in religious events organized by their religion organization. Spiritual rest, on the other hand, may simply be a way to commune with a higher power.
If you're a person of religion, spiritual rest could entail things like praying or engaging in other kinds of religious rituals. For those who don't adhere to a specific religion, spiritual rest may be achieved by community involvement, meditation, and other activities that seem to offer you a sense of purpose and link you to the larger community.
How to achieve spiritual rest?
Dive into something that's bigger than you. Add prayer, meditation, or quiet time, and from this will likely spur community involvement since you'll want to share with others who believe as you do. It'll feel right when it brings you peace and passion intertwined.
Lumina Homes let you visit the church more often and achieve spiritual restorative activities as our communities are near worship places. In terms of community involvement, residents and future homeowners can enjoy planting activities as Lumina Homes is offering a community garden in which you can spend time relaxing while helping your community achieve sustainability.
All these types of rest are truly essential to everyone's well-being so make sure to be practical and hassle-free in achieving them by choosing the right community for yourself and your family.
Choose a trusted and known developer in the Philippines such as Lumina Homes and get your family's dream home that you are aiming for and working hard for a long time! We offer flexible payment schemes including bank financing that can surely match your lifestyle and budget.
Get your home reservations now through bank financing via our Lumina Homes Online and avail of our Pay LESS, Get MORE promo that gives you freebies such as FREE Water Application Fee, FREE Electric Application Fee, FREE HOA Membership Fee, FREE Loan Processing, FREE Title Processing, Longer Downpayment Term, and Lower Monthly Downpayment!
Achieve now your dream home and feel revitalized with these seven types of rest that are the most underutilized, chemical-free, safe, and effective alternative medicine accessible to us through Lumina Homes!

Try our Home Loan Calculator
Loan Calculator
Try Lumina Homes' loan calculator and get an estimate computation for your preferred Lumina property and home model.