Bloom your May with Exciting Promos and Prizes from Lumina Homes
26 May 2022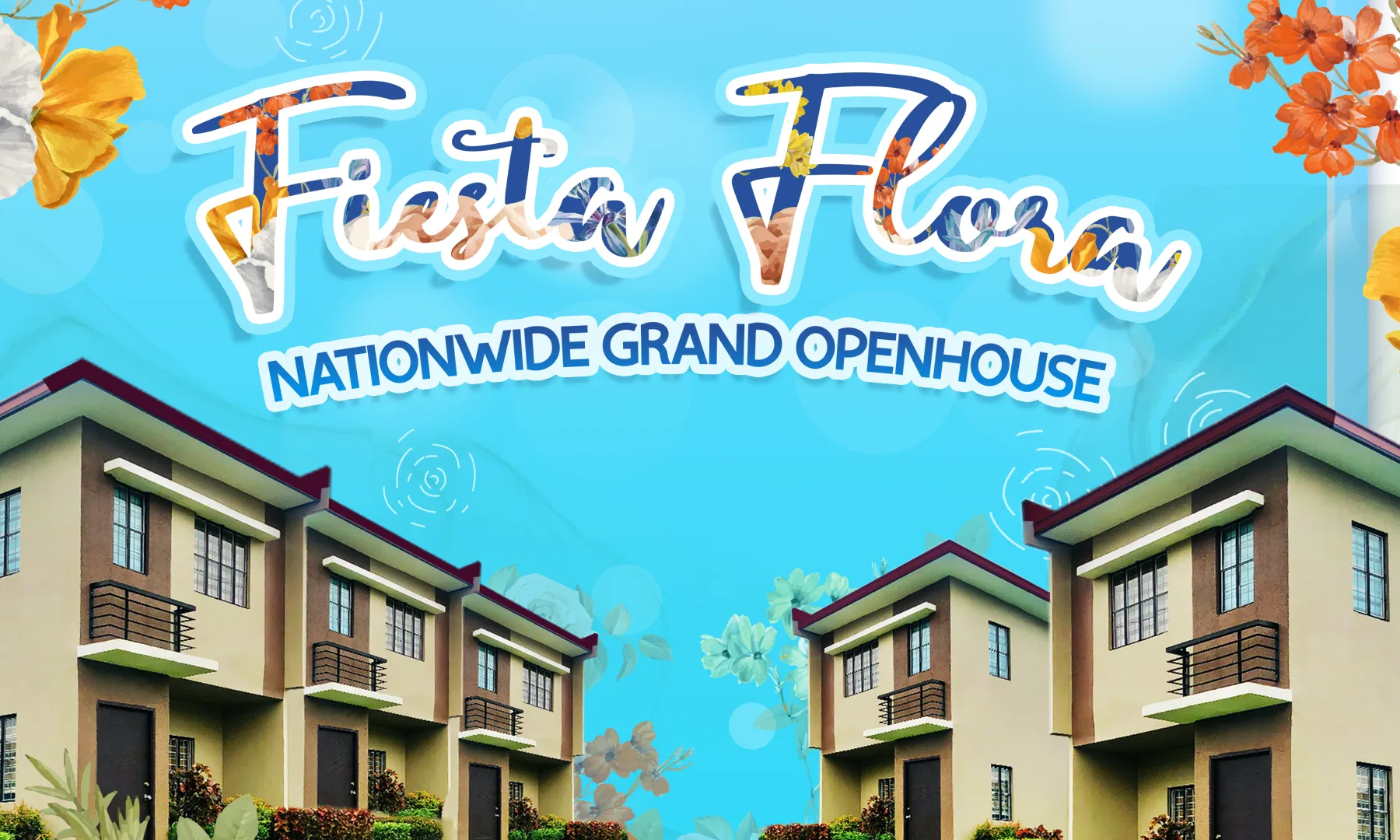 Mark your calendars, as Lumina Homes will hold a FIESTA FLORA NATIONWIDE GRAND OPEN HOUSE this coming Saturday, May 28, 2022!
Lumina Homes will have its grand openhouse this May 28 in its selected communities nationwide from 9:00 AM onwards! Make sure to join and bloom in fun by wearing bright and colorful attire when you visit our communities in:
Nueva Ecija
Lumina Cabanatuan – Brgy. Valle Cruz, Cabanatuan City, Nueva Ecija

Lumina San Jose – Brgy. Caanawa, San Jose City, Nueva Ecija
Batangas
Lumina Bauan – Brgy. As Is, Bauan, Batangas

Lumina Lipa – Brgy. Tangway, Lipa City, Batangas

Lumina Rosario – Brgy. Quilib, Rosario, Batangas

Lumina Sto. Tomas – Brgy. San Vicente, Sto. Tomas City, Batangas

Lumina Tanauan – Brgy. Hidalgo, Tanauan City, Batangas

Lumina Residences Batangas – Brgy. Santa Maria, Sto. Tomas, Batangas
Quezon
Lumina Sariaya – Brgy. Sampaloc Santo Cristo, Sariaya, Quezon

Lumina Quezon – Brgy. Isabang, Tayabas, Quezon
Negros Occidental
Lumina Bacolod – Brgy. Vista Alegre, Bacolod City, Negros Occidental

Lumina Bacolod East – Granada Alangilan Road, Bacolod, Negros Occidental

Lumina Sagay – Brgy. Rizal, Sagay City, Negros Occidental

Lumina Silay – Brgy. Rizal, Silay City, Negros Occidental
Davao del Norte
Lumina Tagum – Brgy. Cuambogan, Tagum City, Davao del Norte
Bukidnon
Lumina Malaybalay – Brgy. Casisang, Malaybalay City, Bukidnon

Lumina Valencia – Brgy. Poblacion, Valencia City, Bukidnon
In addition to this, we will also have Bloom All The May Arch-Making Contest in these communities that can be participated with our Lumina BIDA Sellers! We are calling our business partners and Lumina marketers to sell and partake in this fun and exciting event.
Participating Lumina Sellers will have to create and decorate their own creative and unique Flores de Mayo arch during our nationwide grand open house and get a chance to take home up to Php 3,000 for the first prize!
Meanwhile, Php 2,000 will be awarded to the 2nd Place Winner, while the 3rd Placer will receive Php 1,000 in cash.
Pay Less and Get More with Lumina Homes!
But wait, there's more!
Don't miss your chance to join our free site tripping during your visit to start your home journey with us this Saturday and grab the opportunity to Pay Less and Get More! in your brand new house and lot from Lumina Homes!
Apart from providing a smoother and more convenient home-buying experience to our Lumina Homebuyers, Lumina Homes now also have its newest lower downpayment scheme! Because our most popular two-storey houses around the country are now available with smaller downpayments, you may now afford to live the life of your dreams in a great home in an exclusive neighborhood.
You can now get out Townhouse home model units for as low as Php 6,500 per month, while you can own our Single Firewall home model units for as low as Php 8,000 per month!
Also, suppose you will make your home reservations during our nationwide grand open house this Saturday. In that case, you can get a chance to enjoy our special freebies that include FREE Water Application Fee, FREE Electric Application Fee, FREE HOA Membership Fee, FREE Loan Processing, and FREE Title Processing.
Note that these special freebies from Lumina Homes are not limited to the communities mentioned above but can be applied to ALL OUR COMMUNITIES NATIONWIDE!
Aside from the aforementioned communities in Nueva Ecija, Quezon, Batangas, Negros Occidental, Davao del Norte, and Bukidnon, Lumina Homes is also present in other key developments across the country, namely:
Luzon
Lumina San Juan – Brgy. Calincamasan, San Juan, La Union

Lumina Manaoag – Brgy. Sapang, Manaoag, Pangasinan

Lumina Tuguegarao – Carig Norte, Tuguegarao City, Cagayan

Lumina Cauayan – Brgy. Marabulig 1, Cauayan City, Isabela

Lumina Plaridel – Brgy. Culianin, Plaridel, Bulacan

Lumina Pandi – Brgy. Pinagkuartelan, Pandi, Bulacan

Lumina Baliwag – Brgy. Pagala, Baliwag, Bulacan

Lumina San Miguel – Brgy. Buliran, San Miguel, Bulacan

Lumina Residences Bulacan – Brgy. Rueda, Plaridel and Brgy. Buguion, Calumpit, Bulacan

Lumina Sta. Maria – Magasawang Sapa Rd., Sta. Maria, Bulacan

Lumina Pilar – Gov. Linao Rd., Brgy. Liyang, Pilar, Bataan

Lumina Balanga Residences – Sitio Maluya, Brgy. Cupang, Balanga City, Bataan

Lumina Pampanga – Brgy. Panipuan, Mexico, Pampanga

Lumina San Fernando – Brgy. Calulut, City of San Fernando, Pampanga

Lumina Subic – Brgy. Pamatawan, Subic, Zambales

Lumina Tarlac – Brgy. Maliwalo, Tarlac City, Tarlac

Lumina Tarlac Residences – Brgy. San Agustin, Concepcion, Tarlac

Lumina Baras – Latigo Drive Brgy. Concepcion Baras, Rizal

Lumina Pililla – San Antonio Feeder Road Brgy. Quisao Pililla, Rizal

Lumina Binangonan – Brgy. Bilibiran, Binangonan, Rizal

Lumina Calauan – Brgy. Masiit, Calauan, Laguna

Lumina Tanza – Brgy. Bagtas, Tanza, Cavite

Lumina Camarines Norte – Brgy. Cabanbanan, San Vicente, Camarines Norte

Lumina Sorsogon – Brgy. Macabog, Sorsogon City, Sorsogon

Lumina Legazpi – Sitio San Jose, Brgy. Maslog, Legazpi City
Visayas
Lumina Iloilo – Brgy. Abilay Norte, Oton, Iloilo

Lumina Capiz – Brgy. Malocloc Norte, Ivisan, Capiz

Lumina Carcar – Brgy. Can-asujan, Carcar City, Cebu
Mindanao
Lumina Pagadian – Brgy. Tiguma, Pagadian City, Zamboanga del Sur

Lumina Ozamiz – Purok 1, Brgy. Labo, Ozamiz, Misamis Occidental

Lumina Polomolok – Brgy. Cannery Site, Polomolok, South Cotabato

Lumina Butuan – Brgy. Taguibo, Butuan City, Agusan del Norte
If cost affordability and quality are your top two considerations in looking for a property, then an affordable house and lot investment with Lumina Homes is doubtless what will fulfill your lifestyle needs. Lumina Homes communities from Luzon, Visayas, and Mindanao are all conveniently located in proximity to schools, hospitals, supermarkets, local government offices, tourist spots, and accessible means of public transportation for commuting residents.
Besides this, exciting amenities are in store for you as a would-be Lumina homeowner! This includes access to a multipurpose hall, gazebos, jogging paths, a basketball court, mini-gardens, a play area for kids, and an entire community center that can house different offices that are beneficial for all Lumina residents.
If you're still renting, make the smart decision of investing your hard-earned money through purchasing an affordable house and lot for sale! Lumina Homes offers flexible payment options and less stringent financing terms. Reap the benefit of homeownership with our cheaper selling price without sacrificing quality and convenience.
Hurry! Join in the fun and excitement of Lumina Homes' blooming freebies and promos this May and achieve your #BahayGoals or the home investment! Get in touch with one of our house estate agents and reserve your future Lumina house and lot in the Philippines! Visit our website or Facebook account and be updated on the latest news and updates about the local and world real estate market, investment, and homeownership.

Try our Home Loan Calculator
Loan Calculator
Try Lumina Homes' loan calculator and get an estimate computation for your preferred Lumina property and home model.