Virtual Christmas Party Ideas 2021: Must-try Games and Activities for the Holiday Party
3 November 2021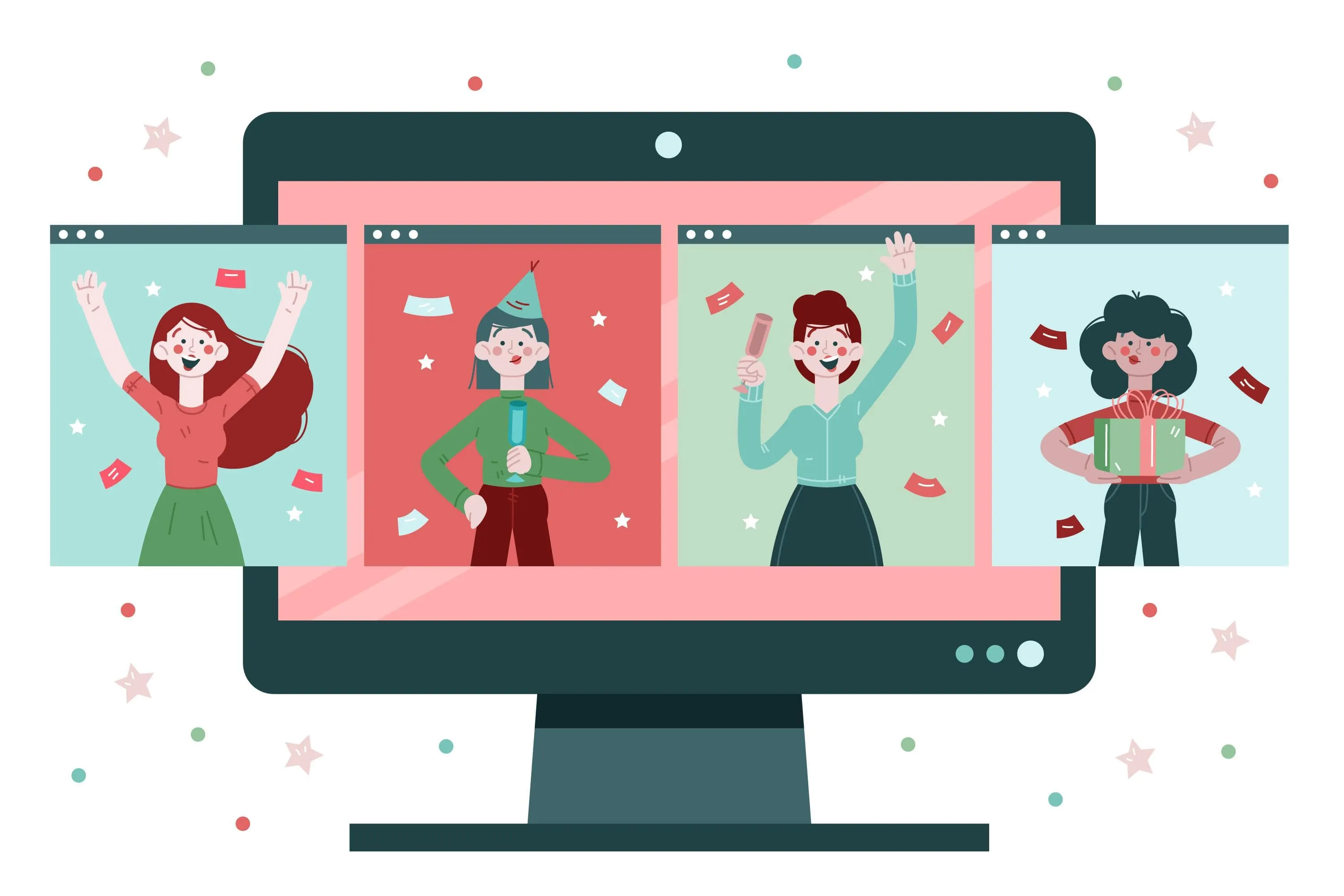 Christmas is fast approaching, and yet we still face a pandemic crisis in our country. Although the restrictions on the country's different regions are somewhat lifted, some people might not yet feel comfortable or confident to celebrate with Christmas parties in closed and crowded places.
Partying is still possible, despite how we organized and approached gatherings in the previous several years. Virtual holiday parties are not only a safe and fun way of celebrating holidays remotely, but they are also ideal for remote or hybrid teams that might otherwise miss out on office festivities.
By using video conferencing services like Zoom, Google Meet, Microsoft Teams, and WebEx, virtual Christmas parties may be held throughout the holidays. There are usually various virtual holiday party ideas and ways to organize an online Christmas party for your relatives, friends, or colleagues this season. You can even arrange some fun virtual holiday party ideas and activities for everyone during the event that creates yuletide spirit and whoop up the end of the year with these events. Who knows? You might make some unforgettable memories with your friends and family while hosting a virtual holiday party.
Top 5 Virtual Holiday Party Games
Any holiday party will not be completed without the fun and exciting games! Let's take a look at how you can bring an engaging match online.
1. Virtual Holiday Trivia
There is no need to confine this game to the categories of Christmas music, customs, movies, stories/lore, etc. Questions about the ghosts of Christmas advertising past, holidays throughout the globe, or festivities that went awry might be an exciting addition to this online holiday party game.
2. Online Christmas Bingo
There are two ways you can play this fun game: you can play it as a group, or you can play a concentrated version of the game by enabling teammates to speak and participate in breakout rooms. The winner is the first person to mark five consecutive squares. Prizes such as GCash or gift cards might also be added for some extra fun for your virtual holiday parties.
3. Online Christmas Scavenger Hunt
Scavenger games are a great way to pass the time on a Zoom call. The game lasts around 15 minutes and is a great way to get people excited and engaged in your virtual holiday event. You can start by letting them find their favorite presents and Christmas treats and then showing and telling the story behind them.
4. Chubby Elf
The Chubby Elf game is similar to Chubby Bunny. The storyteller must repeat the storyline of a famous Christmas tale with a mouth full of marshmallows. The story will then be guessed by their teammates as quickly as possible. The team that gets the most number of points will win the game. You can also give prizes for the winners, like a snow globe or the remaining marshmallows, to add some thrill to your virtual party.
5. Name that holiday tune.
You can play Name That Tune, a virtual holiday game where participants compete to identify a certain song at any time of year. Virtual Christmas parties are a great place to play one of these classic online team-building games in which you can add some twists for the holiday spirit. Ask one of the teams to either hum the song or mute their microphone while singing the song. Listening or reading lips is the only way for the other players to identify the song.
Top 5 Virtual Christmas Party Activity
Aside from the exciting ice breakers that we usually have at Christmas Parties, holiday celebrations usually also have some riveting activities that everyone enjoys. Here are some of the Christmas Party activities that you can bring to your virtual events.
1. Virtual Secret

Santa
For every Christmas party, virtual event, or otherwise, there must be a Secret Santa. Exchange gifts must be included to bring back the joy of holiday celebrations at home or work. Using a gift exchange generator, you may choose names, mail gifts, and wait to open them together over an online video conferencing app. Teams can give each other virtual gifts, such as online gift cards or internet subscriptions, as an alternative to physical packages that are still need to be delivered.
2. Virtual Photobooth.
Because of applications like Zoom and Microsoft Teams is now much more straightforward for distant teams to take group photos. Using screenshots or a similar image capture capability, you may take a snapshot of your team during your virtual Christmas party. You may even wear some props and accessories to add some creativity to your team photo.
3. Virtual Holiday Decorating Contest
We can still have a holiday decorating contest online. We can group the participants into families and decorate our homes with the best Christmas decorations that we can think of. You can be creative and explore the different themes you can use, from recycling and upcycling to DIY Christmas decorations. You can even use the online applications nowadays to photoshop, edit, and design your very own Christmas decors!
4. Christmas Time in the City
This game is a fun way to maximize the lower restrictions that we have now in the different parts of the country. If your relatives, friends, or colleagues live in other parts of the city or province, they can try to shoot or document how they celebrate Christmas or holidays in their place. This is the time to showcase and be proud of their own Christmas tradition and share it with the team.
5. Virtual Holiday Dinner.
Holiday celebrations are incomplete without food. When it comes to your online Christmas party, you can still enjoy many festive goodies and treats, although you are celebrating remotely. Various delivery apps are available these days in the country that you can utilize for this season. You can order online any of the food that you like to share with your relatives and friends and have them delivered to their front door.
Eat them together after all the activities and games you have for your Online Christmas Party and share some stories and laughs, reminiscing and planning your future travels or meetings with them.
It's good that the quarantine restrictions across the country are already easing up for the holiday season. This is great not just for families who haven't seen or met each other in person for a long time but also small and medium enterprises and the nation's economy.
Just don't forget to observe the proper protocols still, even if you're in the middle of these festive celebrations and merry activities. Enjoy the holidays!
***
For more information about the affordable house and lot for sale of Lumina Homes, please contact (0917) 629 6523.
Visit our official website at www.lumina.com.ph and like/follow our official online channels: Facebook, Twitter, Instagram, YouTube, Google MyBusiness & Google Maps, Pinterest, Spotify, Viber, Telegram, Lazada, and Shopee.

Try our Home Loan Calculator
Loan Calculator
Try Lumina Homes' loan calculator and get an estimate computation for your preferred Lumina property and home model.