SEA Games 2022 Philippines Participants
16 May 2022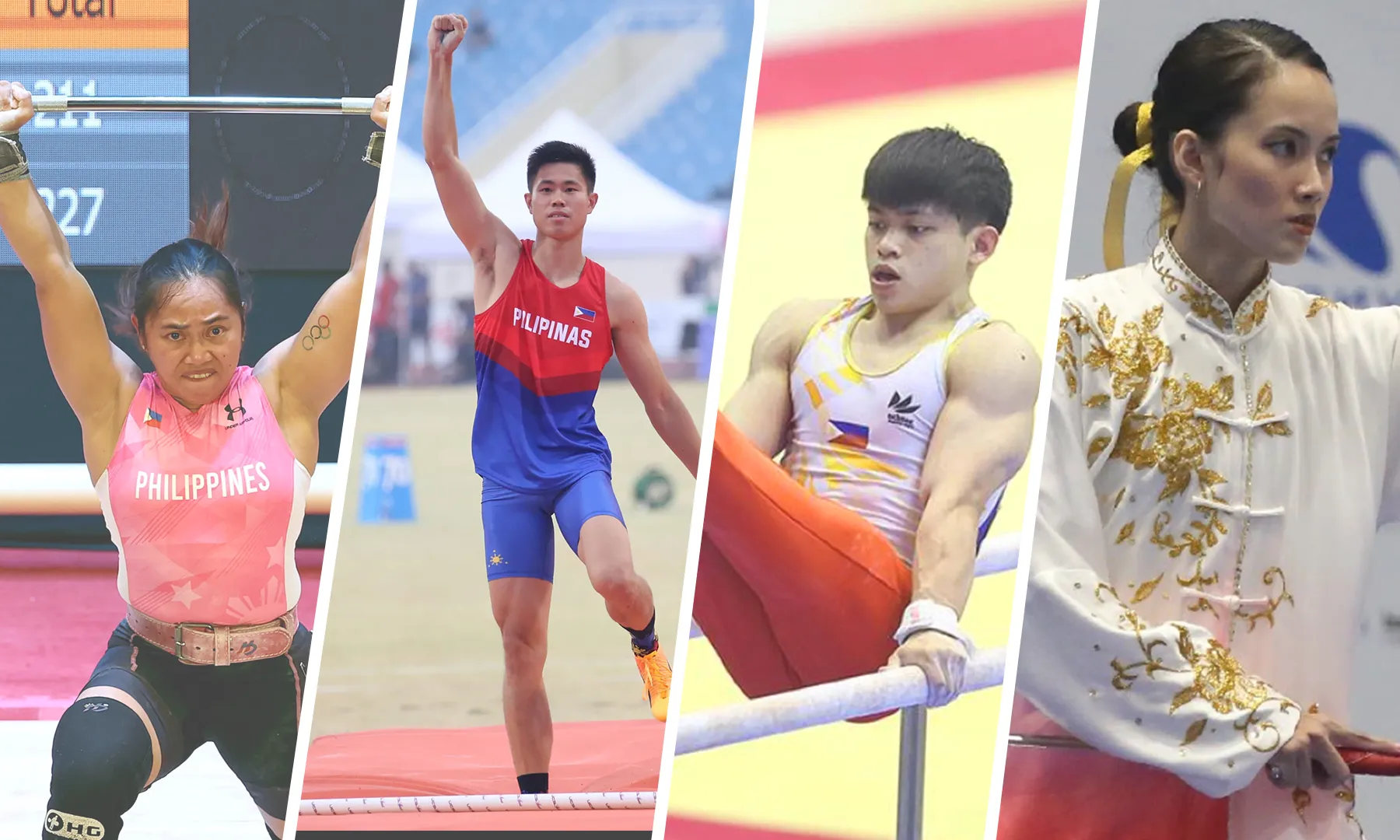 Following the end of the delegation registration sessions arranged by the host nation, which is Vietnam, Team Philippines has confirmed its combat lineup for the 31st Southeast Asian Games in this country.
The complete 981-strong Philippine delegation, which includes 641 Filipino athletes from 38 sports, has been accredited by Commissioner Ramon Fernandez of the Philippine Sports Commission (PSC), the country's chef de mission at the Southeast Asian Games or SEA Games.
Before the inauguration ceremony on May 12, which the host country of Vietnam is preparing, Mr. Fernandez and his deputy chefs de mission Pearl Managuelod and Carl Sambrano worked diligently to get the necessary identity cards.
According to the report, a total of 318 officials and 18 support workers would be on hand to assist the athletes, whose participation and preparations were funded to the tune of Php 232 million by the PSC, the government arm in sports.
SEA Games Opening Ceremony and Team Philippines
The largest Filipino delegation for the 31st Southeast Asian Games already checked in last May 10, 2022 with the Philippine Sports Commission on standby and were able to have smooth arrival in host Vietnam and was able to settle comfortably before the opening ceremony of the 11-nation sportsfest.
Large groups of international competitors, including multiple-medal winning gymnast Carlos Edriel Yulo from the 2019 Southeast Asian Games gold medallist and world champion stepped foot on Vietnam to participate in the SEA Games and the World Volleyball Federation Volleyball World Championships. Having won two gold medals and five silver medals in men's artistic gymnastics in Manila 2019 SEA Games with the help of his Japanese coach, Munehiro Kugimiya, Yulo is anticipated to do the same again for Team Philippines for this year's SEA Games.
Women's volleyball and men's volleyball teams have a combined total of 38 players and officials while gymnastics has a total of 22 athletes and coaches among the 193 members of the delegation that arrived in Vietnam last May 10.
One (1) Filipino swimmer joined other Filipino athletes and officials from badminton with 19 delegates, wushu with 17 delegates, bodybuilding with 13 delegates, fencing with 28 delegates, tennis with 12 delegates, athletics with eight (8) delegates, and the PSC medical team that consists of six (6) members as well as 12 media members on that same day.
Athletes from kickboxing, handball, men's and women's football, rowing, chess, kurash, pencak silat, men's 33 basketball, women's basketball, golf, and triathlon/duathlon have also already arrived in the Vietnamese capital and moved to their respective billeting areas, where they'll be staying for the duration of the tournament.
Pole vaulter Ernest John Obiena, the current Asian record holder for the pole vault event, was also among the 50 athletes and officials that arrived on the host country last May 11 for the first day of the competition.
Aside from esports, which has 25 delegates from the Philippines, there are also entries from billiards with 10 delegates, bowling with 13 delegates, cycling with 16 delegates, jiu-jitsu with nine (9) delegates, golf with two (2) delegates, and swimming with three (3) delegates.
New Sea Games Record
There are currently 11 nations vying for sports dominance at the 31st Southeast Asian Games, which is taking place in country host Vietnam from May 12 to 23. The Philippines is aiming to retain its overall title after winning 149 gold, 117 silver, and 121 bronze medals in the 2019 edition of the SEA Games.
But this year's host, Vietnam, is expected to take the reins after finishing second in the Manila SEA Games 2019 with a total of 98 gold, 85 silver, and 105 bronze medals. The competition is also rounded out by the countries of Burma, Cambodia, Brunei, Laos, and Timor Leste, as well as Thailand, Indonesia, Malaysia, and Singapore.
As of May 16, 2022, the Philippines is in the 3rd rank for the 31st Southeast Asian Games with a total of 108 medals-- 30 of which are Gold, 34 Silvers, and 44 Bronzes.
So far, here are the lists of gold medalists from the Philippine Team as of the moment:
Mary Francine Padios – pencak silat, seni tunggal
Jack Escarpe – kurash, men's -73kg
Carlos Yulo – artistic gymnastics, men's individual all-around
Gina Iniong – kickboxing, women's 60kg low kick
Jean Claude Saclag – kickboxing, men's 63.5kg low kick
Fernando Casares – triathlon, men's division
Kim Mangrobang – triathlon, women's division
Samantha Catantan – fencing, women's individual foil
Meggie Ochoa – jiu-jitsu, women's 45kg
Annie Ramirez – jiu-jitsu, women's -62kg
EJ Obiena – athletics, men's pole vault
Aleah Finnegan, Chiara Andrew, Charlie Manzano, Lucia Gutierrez, Kursten Lopez, Cristina Loberanes – gymnastics, women's team all-around
Agatha Wong – wushu, women's taijijian
Kim Mangrobang – duathlon, women's division
Carlos Yulo – artistic gymnastics, men's floor exercise
Aleah Finnegan – artistic gymnastics, women's vault
Arnel Mandal – wushu, men's sanda 56kg
Carlos Yulo – artistic gymnastics, men's still rings
William Morrison – athletics, shot put
Stephanie de Leon and Michael Angelo Marquez – dancesport, Latin dance
Merwin Tan – bowling, men's singles
Carlos Yulo – artistic gymnastics, men's vault
Carlos Yulo – artistic gymnastics, men's horizontal bar
Clinton Kingsley Bautista – athletics, men's 110m hurdles
Jocel Lyn Ninobla – taekwondo, women's individual poomsae
Sean Mischa Aranar and Ana Leonila Nualla – dancesport, Viennese waltz
Sean Mischa Aranar and Ana Leonila Nualla – dancesport, tango
Sean Mischa Aranar and Ana Leonila Nualla – dancesport, five standard dances
Mark Jayson Gayon and Mary Joy Renigen – dancesport, slow foxtrot
Chloe Isleta – swimming, women's 200m backstroke
A community that supports an active lifestyle
Team Philippines athletes compete for this international sports event are truly Filipino pride.
Are you dreaming for your kids to be part of these nation's campaign and global sports as well? It all starts with the community!
In choosing a developer and purchasing a brand new house and lot for your family, make sure to choose a community that doesn't not only provide enough space for its residents but also promotes an active lifestyle through its innovative amenities.
Lumina Homes gives you this community with eSpacio. From the word space, eSpacio provides a wider space for various activities to its residents including a jogging path and a multipurpose hall for sports events.
On top of that, Lumina Homes also partnered with Streamtech which provides stable and faster internet connection to its residents-- which is good if your kids are more into esports like Mobile Legends.
Some Lumina Homes communities are also near the beach that give you and your kids an easier opportunity to join diving events or beach handball and encourage high spirits to pursue whichever kind of sports they would like to have.
Be part now of an active lifestyle community and help your child's dream to be part of this global sports events through Lumina Homes!

Try our Home Loan Calculator
Loan Calculator
Try Lumina Homes' loan calculator and get an estimate computation for your preferred Lumina property and home model.