Permanent Validity of Birth, Marriage, and Death Certificates Eases Filipino Burden
1 June 2022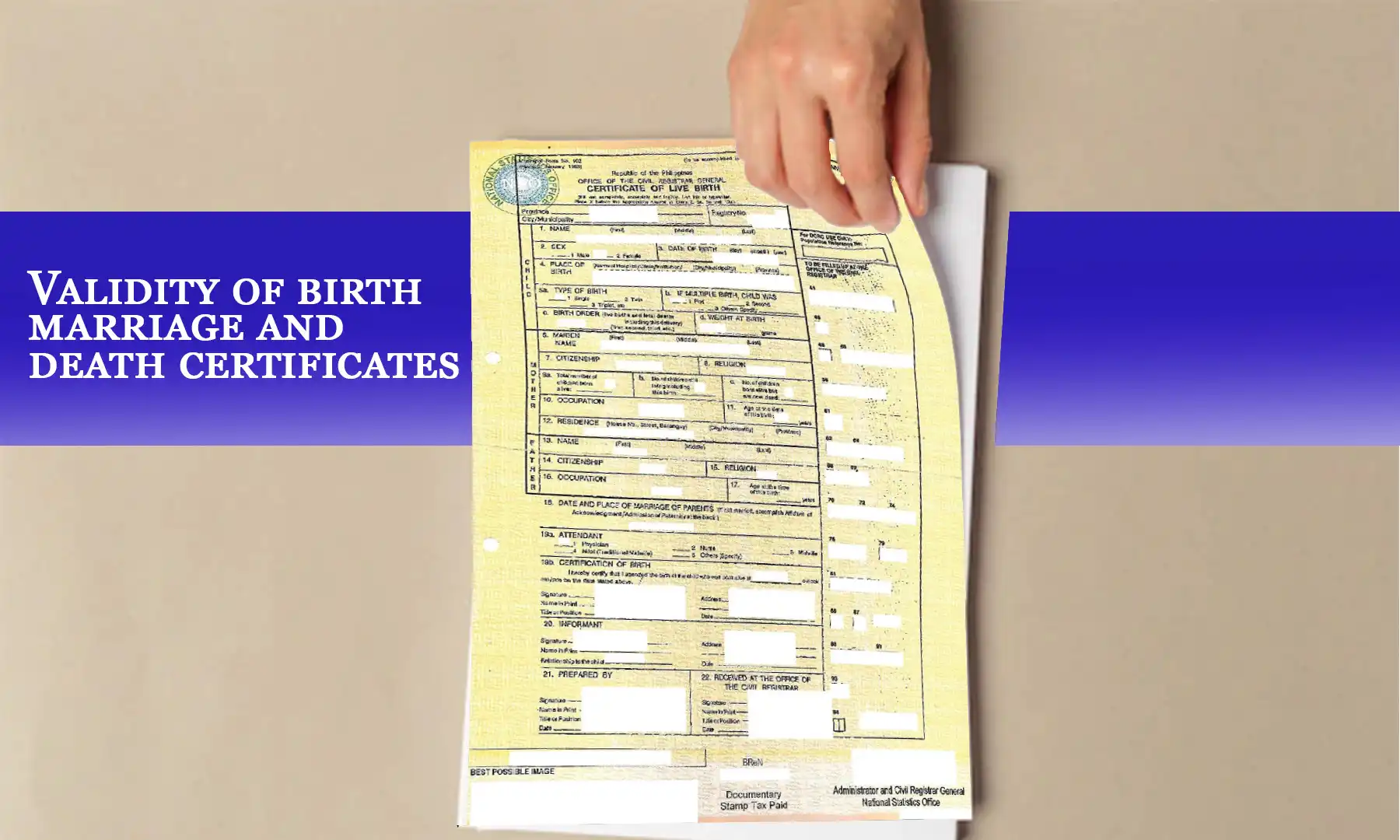 On its third and final reading, the Senate adopted a bill granting perpetual validity to certificates of birth, death, and marriage, prohibiting organizations from requesting a fresh copy of these documents from people with whom they do business.
The Philippine Statistics Authority, previously the National Statistics Office, as well as the local governments' Civil Registry Office and the Philippine Foreign Service Post, issue these official papers.
Permanent Validity of Civil Registry Documents
On May 23, 2022, the Senate passed a measure that would provide the Philippine Statistics Authority (PSA) and the National Statistics Office (NSO) the authority to issue and certify birth, death, and marriage certificates in perpetuity on third and final reading.
Senate Bill No. (SBN) 2450, or the Permanent Validity of the Certificates of Live Birth, Death, and Marriage Act, received unanimous approval in the Senate, opening the way for the formation of a bicameral panel to hammer out a negotiated final version of the same measure that passed the House of Representatives earlier this month.
About the Senate Bill No. 2450 or SBN 2450
According to Senate Bill No. 2450, PSA and NSO certificates of live birth, death, and marriage should be recognized and acknowledged as evidence of a person's identification and legal status in any government or private transactions or services that require submission thereof, no matter the date of issuing of such certificates.
This is granted as long as the the authenticity and security features of the documents are unmarred and the certificates must stay intact, readable, and still visible in order for them to be considered valid under the measure.
People in the Philippines will no longer have to spend time and money re-creating their papers according to the new legislation. This Act also explicitly and unequivocally guarantees that civil registration papers, regardless of when they were issued, will always be legitimate, no matter when they were issued. It is because of this that they will be accepted in all government or private transactions.
In Adopting SN 2450
The bill's co-authors include Senate President Pro-Tempore Ralph Recto, Senators Cynthia Villar, Francis Pangilinan, Win Gatchalian, Joel Villanueva, Juan Edgardo "Sonny" Angara, Grace Poe, and Nancy Binay.
Sen. Ramon Bong Revilla Jr. praised his colleagues for their support of the measure. He is the head of the Committee on Civil Service, Government Reorganization and Professional Regulation and sponsored the said bill.
He pointed out that even though the PSA has publicly declared that the birth certificates it issues have no expiration date, several government agencies and private organizations still require these documents using the latest security paper, which costs the applicant Php 155 for an authenticated copy and Php 365 when delivered to their private address.
In addition to this, he also stated that birth certificates produced within the last six (6) months are being required by some companies and organizations that cause Filipinos to put in the effort and money to get these papers. He also mentioned that those who are looking for work for the first time are most affected by this.
Through its effectivity, birth certificate, death certificate, and marriage certificates will no longer be required from those transacting business in all government agencies, commercial businesses, schools, and non-governmental organizations under the new legislation.
Penalty for violators
Any individual found guilty of breaching this legislation would face a sentence of up to six (6) months in jail or a fine of not less than Php 5, 000 but not more than Php 10, 000, or both, at the discretion of the court, after the bill is signed into law.
In cases when a public official or employee is found guilty of violating the law, an additional punishment of temporary disqualification from holding public office will be applied.
Civil Registry Documents: Requirements and How to Get Them
Having a permanent validity for the different civil registry documents is a great help for Filipinos, particularly when doing transactions in government and private institutions.
Below are the requirements and steps on how to acquire these civil registry documents:
Certificates of live birth
Here are the updated requirements for PSA Birth Certificates in 2022.
Application Form provided by the PSA

Certificate Fee of Php 155

Valid ID for both the owner and requester of document

Authorization letter and ID of the document owner together with the ID of the requester are required if the requester is not the following: document owner, parent, spouse, direct descendant, legal guardian / institution in-charge (if minor)
Below are the steps on how to get certificates of live birth in PSA branch:
Make an appointment using PSA's online appointment system.

Select a PSA branch or outlet.

For your appointment, please provide your phone number and email address.

Your OTP must be confirmed.

Apply for a birth certificate by filling out the appropriate form(s).

Choose the day and hour of your appointment that works best for you.

The details of your appointment should be confirmed.

Keep a digital duplicate of your appointment slip in case you lose or misplace your original.

Attend your scheduled appointment in your chosen PSA location.

Pay the cost for processing.

Get a copy of your original birth certificate.
Marriage Certificate
The interested party may seek a marriage certificate by supplying the following information to facilitate the verification and issuing process.
Complete name of the husband

Complete name of the wife

Date of marriage

Place of marriage

Complete name and address of the requesting party

Number of copies needed

Purpose of the certification
Death Certificate
A death certificate is an official document that lists the name of the deceased, the date of birth, and the date of death, among other things. In order to expedite the process of verifying and issuing a death certificate, the interested party must supply the following information when obtaining one.
Complete name of the deceased person

Date of death

Place of death

Place of marriage

Complete name and address of the requesting party

Number of copies needed

Purpose of the certification
Importance of Civil Registry Documents
The basic goal of civil registration is to ensure that the legal papers necessary by law are in place. A person's right to recognition as a person before the law and their legal connection with the state is supported by civil registration, which provides a record that demonstrates this. Individuals may have their existence, identity, and important events recognized by the legal system and get confirmation of their legal and civil status via legitimate certificates.
To get access to key services including healthcare, education, and banking services in the Philippines, civil registration is required.
On top of that, civil registry documents are also important in securing your future through home investments.
Lumina Homes, the leading affordable house and lot provider in the Philippines, listed these documents as its primary requirements in buying a home. These will also help you in easing the process for your house financing through a bank home loan.
Schedule now for a site tripping to one of Lumina communities nationwide and discover the ultimate home ownership experience that you are dreaming of with Lumina Homes!

Try our Home Loan Calculator
Loan Calculator
Try Lumina Homes' loan calculator and get an estimate computation for your preferred Lumina property and home model.