How to Get a Building Permit in the Philippines?
10 May 2022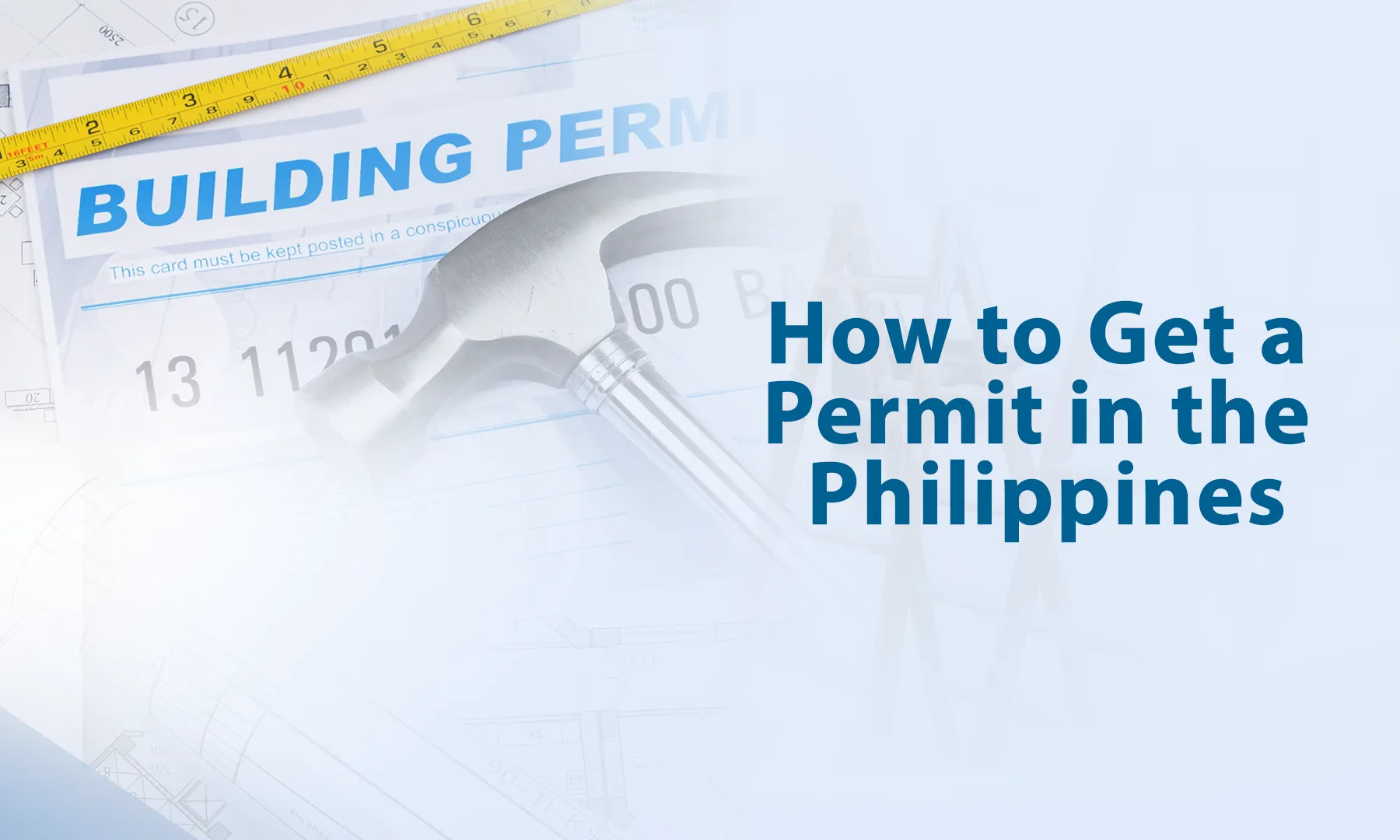 Permits are required for nearly everything in our nation to confirm the validity of a transaction or the rightful owner of a piece of property. In fact, we need to obtain permission for a business, an exam, or even a structure in the Philippines.
Yes, a building permit is required to proceed with the construction of a certain facility. The National Building Code, which was established a long time ago, requires this specific permission to be obtained.
Requirements for getting a building permit in the Philippines
When asking for a permit that will legitimate your transaction in building your property, make sure to prepare all these documents that you will need during the process:
1. Completed application forms duly signed by your engineers. This includes the following:
Five (5) copies of Building Permit Forms

Three (3) copies of Sanitary Permit Forms

Three (3) copies of Electrical Permit Forms
2. If the applicant is the legitimate owner of the property, the following documents must be prepared:
Tax Declaration

Five (5) copies of Certified True Copy of Original Certificate of Title (OCT) or Transfer Certificate of Title (TCT), on file with the Registry of Deeds

Five (5) copies of the Current Real Property Tax Receipt
3. In the event that the applicant is not the legal owner of the property, the following documents must be prepared in addition to the ones mentioned above:
Duly Notarized copy of the Contract Lease

Contract of Sale

Affidavit of Consent of the Lot Owner for the construction of building/house, or Deed of Absolute Sale.
Take Note: Make sure to prepare five (5) copies of any of the documents listed.
4. Five (5) complete sets of Detailed Plans
5. For the construction of two-storey buildings, you will need to prepare a Structural Design Analysis which is signed by Civil Engineer at every page.
6. For the construction of more than two-storey buildings, you will need to prepare a Boring and Plate Load Test as well as a Seismic Analysis.
7. Permit Billboard (0.60 X 0.90 Plywood with the following contents):
Five (5) copies of Bill of Materials and Specification – signed and sealed by an engineer or an architect on every page

Locational Clearance

Photocopy of PTR # and PRC license of all concerned engineers and architects

Clearance from the DPWH if the construction is located along National Highway

DOLE Clearance
Steps in securing a building permit
After you were able to prepare all the necessary documents for applying for a building permit, you can now go to your municipal office or city hall to file for a building permit. Here are the steps that you need to follow in acquiring building permits in the Philippines:
Step 1. Get the requirements checklist.
You may get a list of prerequisites from the office of the municipality or city where you now reside. Because your architect and engineers are familiar with these details, you don't have to worry if you have no clue about the requirements listed on the checklist. You just need to get these Forms and documentation from the municipal office so that your engineers and architects can fill them out for you.
Step 2. Submit the requirements to the Office of the Building Official.
Submit the paperwork to the Office of the Building Inspector once your construction experts have signed and filled them out. ' It is from here that the Assessor's Office will direct you as to where you should go next, and the Acknowledgement Slip provided there will indicate the date of your application's status.
Step 3. Get your Order of Payment.
Once your application has been granted, you will be given an Order of Payment to pay all of the appropriate permit costs that you need to settle in order to acquire a building permit.
Step 4. Pay the building permit fees.
Pay the fees at the Treasurer's Office by presenting the Order of Payment there. An estimated fee of Php 6, 000 or above will be the cost of your building permit fees as this will be based on the construction size of your building, municipality location, as well as the assessment plan. Usually, fees are lower in the countryside than in cities because of the lower cost of land and the lower cost of municipal services.
Step 5. Present the Official Receipt to the Office of the Building Official Releasing Section.
Submit a photocopy of the official receipt (OR) or, if you prefer, you can also present the official receipt (OR) itself to the Office of the Building Official releasing section.
Step 6. Claim your building permit.
Return to the Office of the Building Official's releasing division after five (5) business days to claim your building permit.
There will come a time when the majority of us will want to create some kind of structure, whether it's a home, a storage facility, or an industrial complex. Permits are required since these structures are often utilized for commercial purposes and other permissible activities. In the Philippines, obtaining a construction permit is one of the most common difficulties faced by homeowners and house renovators alike.
Importance of getting a building permit
If you're going to build a business or a home, you will need a building permit. It may be tedious and perhaps cause your head to spin a little. Without it, you won't be able to establish the legality of your home, so make sure to get a building permit immediately rather than meddle with additional problems related to building your property.
By the same token, please also take note that building permits are not just necessarily for those who will want to have a house construction, but this also applies to those who want to make some renovations in their home.
It is not uncommon for natural catastrophes to strike the Philippines since our country is included in the Ring of Fire. Several earthquakes struck the country's islands in previous years, causing extensive damage. This is why it is critical to get a construction permit to protect everyone from such a disaster.
In order to guarantee that the structure is constructed to survive natural disasters and that the materials used are within the design specifications and legal standards, a building permit must be obtained before construction can start.
This is also the reason why in buying a home, you must check the durability and materials used in your brand new house and lot.
Lumina Homes, being the leading home provider in the Philippines, make sure that our residents have the peace of mind as well as safety with all the units we built with Cast-In Place, Industrialized Building System (IBS), and reinforced concrete being used in all of our home model units.
Apart from this, Lumina Homes residents can also get their homes renovated based on their preferences. We hope that we were able to give you some ideas on how to get a building permit in the Philippines when you renovate your brand new homes from Lumina.
Looking for some home renovation inspo? Visit our Shorts on our Official YouTube Channel and get some ideas on how to improve your home space and designs.

Try our Home Loan Calculator
Loan Calculator
Try Lumina Homes' loan calculator and get an estimate computation for your preferred Lumina property and home model.