Filipino Movies for Independence Day 2022
5 June 2022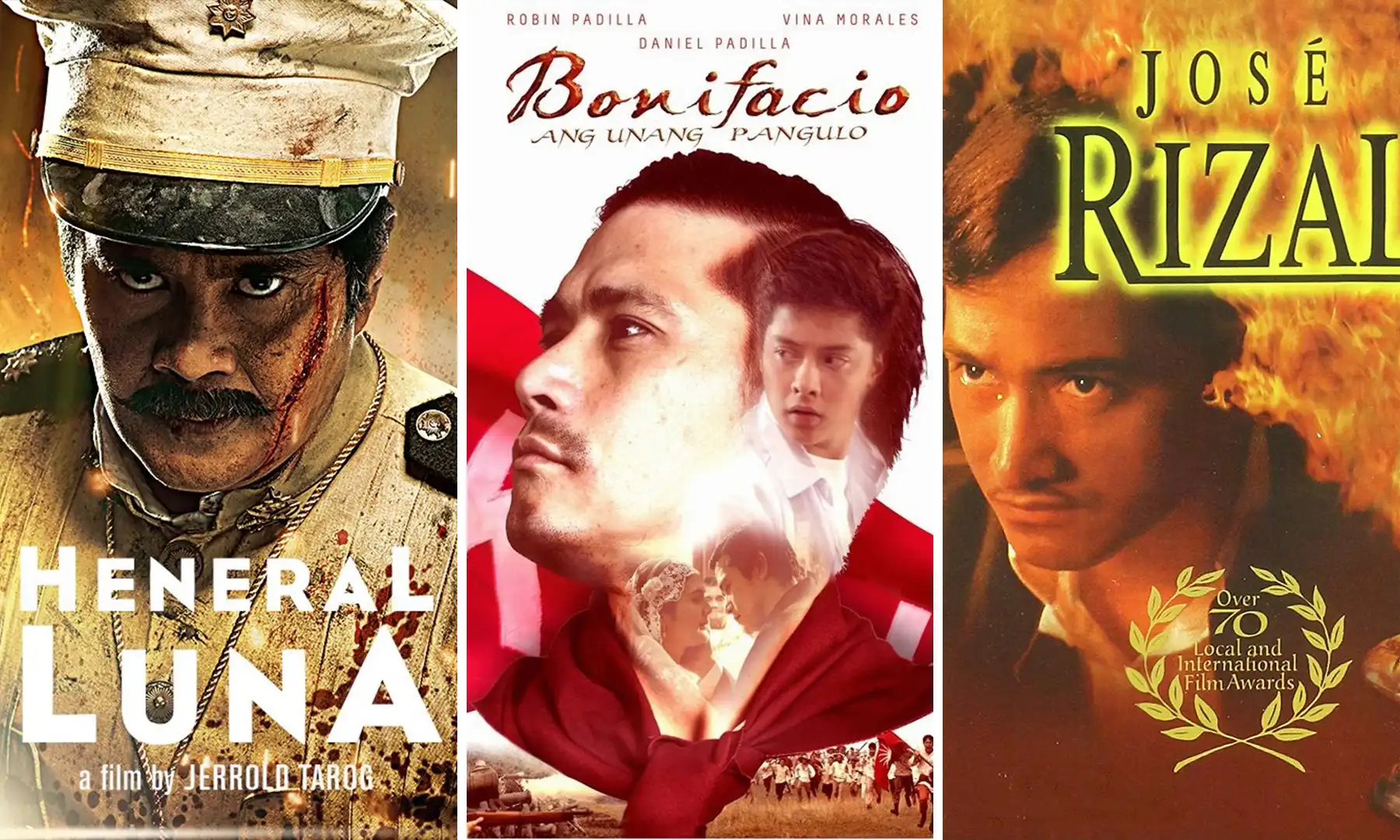 Philippine Independence Day is nearly approaching. As this is an official holiday, and thus, is spent in numerous ways by Filipinos. Don't have any plans yet on June 12?
Why don't you just slack off and relax at home as you watch a movie (or two) about Philippine history? Ready for a different way to spend to commemorate Independence Day? Lumina suggests 10 Filipino films you can watch to let you feel the spirit of nationalism, freedom, and national pride.
1. Jose Rizal
Directed by: Marilou Diaz-Abaya
Starring: Cesar Montano, Joel Torre, Jaime Fabregas, Gloria Diaz, and Gardo Versoza
If there is a hero worthy of a 3-hour biopic, then it is no other than Dr. Jose Protacio Mercado Rizal y Realonda, our country's national hero. Produced by GMA films, it features the life and times and how this hero's endeavors and losses will make you understand how this man sparked the nationalism and patriotism among Filipinos, just by the might of his pen.
Director Marilou Diaz Abaya's film garnered awards for this masterpiece, such as the FAMAS Awards, the Gawad Urian Awards, and the Metro Manila Film Festival. The story is recounted via a series of non-linear flashbacks showcasing Rizal's various roles as a writer, a propagandist, a lover, a friend, a brother, a doctor, and the man that inspired the revolution.
2.Bonifacio: Ang Unang Pangulo
Directed by: Enzo Williams
Starring: Robin Padilla, Vina Morales, Eddie Garcia and Daniel Padilla
Don't be confused with the title, history books say that Emilio Aguinaldo was the first president of the republic. However, it is also said that Andres Bonifacio, considered the Father of the Katipunan, was supposedly poised to be the original choice for the position.
Hence, this historical biopic unveils the life of Andres Bonifacio, from his early years with Jose Rizal's La Liga Filipina to his and his brother Procopio's execution day. This movie sets the bar for the Heneral trilogy for the then yet-to-be-released Heneral Luna film.
Aside from its attempt to clear the mysteries surrounding this national hero's death, it awakened the Filipino audiences' thirst for action-packed and heavily budgeted historical films which not only engage the mind but also the heart in terms of taking charge for change in the country to happen. Its post-credit scene with John Arcilla as Gen. Antonio Luna, a preview of the 2015 film.
3.Supremo
Directed by: Richard V. Somes
Starring: Alfred Vargas, Mon Confiado, and Nicco Manalo
With a slightly different interpretation of history, the Supremo is about Andres Bonifacio and his life as the supposed leader of the Katipunan and the Philippines. It even showed Alfred Vargas, portraying Bonifacio, with the iconic tearing up of the cedula, a tax imposed by the then Spanish regime. As events unfolded, discover how this film showcased their process of igniting the thirst for independence, despite having a limited budget.
4.Heneral Luna (2015)
Directed by: Jerrold Tarog
Starring: John Arcilla, Arron Villaflor, Epy Quizon, Mon Confiado, and Nonie Buencamino
Not to be confused with his painter brother Juan Luna, General Antonio Luna became a familiar name to most Filipinos after it became mainstream. This film shows how one's man's conviction and love for his country motivated him to fight during the Philippine-American war. However, his plans were thwarted not by the oppressors but by fellow Filipinos who wanted to protect their own interests.
A crowd favorite perhaps not only for its cinematography and production design but also for its impressive screenplay, Heneral Luna instantly reached the minds of both critics and the masses.
However, his assassination caused controversies behind Aguinaldo's dictatorial administration to resurface once more, as the film shows disunity and betrayal among Filipino leaders of the time.
5.Goyo: Ang Batang Heneral
Directed by: Jerrold Tarog
Starring: Paolo Avelino, Gwen Zamora, Epy Quizon, and Art Acuña
The storyline of Goyo: Ang Batang Heneral picks up directly from where its precursor, Heneral Luna, left off. This sequel centers on the internal battles of the young General Gregorio Del Pilar as he attempts to rediscover where his true loyalty lies. In the same manner, realize what would really make him worthy as a hero.
Also set during the Philippine-American war era, this movie highlights the last days of Gregorio del Pilar, especially during the historic Battle of Tirad Pass, as he was trying to decide which should he follow: his love for the country, or the command of his leader, President Aguinaldo.
Told through different perspectives based on the accounts and memoirs of American and Filipino soldiers, the film tackled how even heroes face issues of youth idealism, identity, and heroism. Which may challenge its viewers to ask themselves, where do your loyalties lie--your leader or the country where you belong?
6.Quezon's Game (2019)
Directed by: Matthew E. Rosen
Starring: Raymond Bagatsing, Rachel Alejandro, and David Bianco
Perhaps when you think of Philippine history, we often skip the part about Manuel Quezon. But not to the Jews whom he tried to help, though not quite successful.
Quezon's Game narrates the story of President Manuel L. Quezon in 1938 playing the political game when they decided to open the country for Jewish people seeking refuge during the reign of Nazi Germany. However, instead of being seen as a humanitarian act, the United States was reluctant to give visas to the said refugees. The story unfolds on what happened before, during, and after this notable act of the then-president of Commonwealth, Quezon.
7.El Presidente
Directed by: Mark Meily
Starring: Jeorge "ER" Estregan, Cesar Montano, Baron Geisler, and Nora Aunor
This movie tells us about the story of Emilio Aguinaldo in the revolution, from his humble beginning as the mayor of Cavite El Viejo, to leading the provincial forces against the Spaniards.
Considered the first president of the Philippines after the three-century-long Spanish regime, President Emilio Aguinaldo is famous for waving the Philippine flag in Kawit, Cavite. In addition, he became a lead figure of independence itself, for being the President of the First Philippine Republic.
8.Dekada '70
Directed by: Chito S. Roño
Starring: Vilma Santos, Christopher De Leon, Piolo Pascual, Marvin Agustin, and Carlos Agassi
A number of the best films ever made came from a book adaptation, which is especially true for this movie, Dekada '70. The film focuses on the family of Amanda Bartolome, whose children got involved in activism and rebellion during the time of Martial Law. Their story sheds light on how they encountered, survived, and eventually lived through this important event in the history of the Philippines.
9.Hele Sa Hiwagang Hapis (A Lullaby To The Sorrowful Mystery)
Directed by: Lav Diaz
Starring: Piolo Pascual, John Lloyd Cruz, Hazel Orencio, and Alessandra de Rossi
Ready for a Filipino films marathon for 8 hours straight? You must check out Hele sa Hiwagang Hapis. A masterful narrative that combines the historical and the imaginary, the movie weaves two alternating stories together: one is that of Gregoria De Jesus in search of the body of her husband, Andres Bonifacio, and his brother Procopio; and the other follows the separate figures of Crisostomo Ibarra and Simoun.
As this is eight hours long, it is a compilation of related narratives that happened during the Philippine Revolution of 1896-1897 against the Spaniards. Among the stories featured are: the story of the ballad "Jocelynang Baliwag", which transformed into the hymn of the revolution; another is Gregoria de Jesus' despairing search for the bodies of Bonifacio and his brother in a forested mountain; also included are Simoun and Isagani, Rizal's fictional characters from his novel; and even about Bernardo Carpio, the half-man, half-horse tikbalang, the Philippine mythical hero of strength.
This visionary leader in Filipino films featuring the quest for Independence Day was chosen to be a contender for the prestigious Golden Bear at the 66th Berlin International Film Festival. It won the Alfred Bauer Prize.
10.Bayaning 3rd World
Directed by: Mike De Leon
Starring: Ricky Davao, Joel Torre, Daria Ramirez, Rio Locsin, and Cherry Pie Picache
If you want a different take on Rizal's life, this mockumentary film directed by Mike De Leon focuses on Jose Rizal and the questions surrounding his heroism, even highlighting the supposed retraction before he was executed.
It's a unique way of retelling a story, as two filmmakers imagined doing interviews with people who are close to Rizal, and soon with Rizal as well.
Other Notable Filipino Films to Watch
Ganito kami Noon, Paano na kayo Ngayon? (1976)

Women of Malolos (2014)

Manoro (2006)

Baler (2008)

Birdshot (2016)
Another Way to Celebrate Philippine Independence Day
Do you want to maximize the Independence Day experience? We invite you to join Lumina Homes' Independence Day Nationwide Openhouse in selected Lumina project sites. Not only will you get to see model houses, but you can also apply as a vendor and a merchant! Contact us now.

Try our Home Loan Calculator
Loan Calculator
Try Lumina Homes' loan calculator and get an estimate computation for your preferred Lumina property and home model.