Celebrate Lumina Homes' 10th Birthday with Shopee 8.8 Sale!
4 August 2022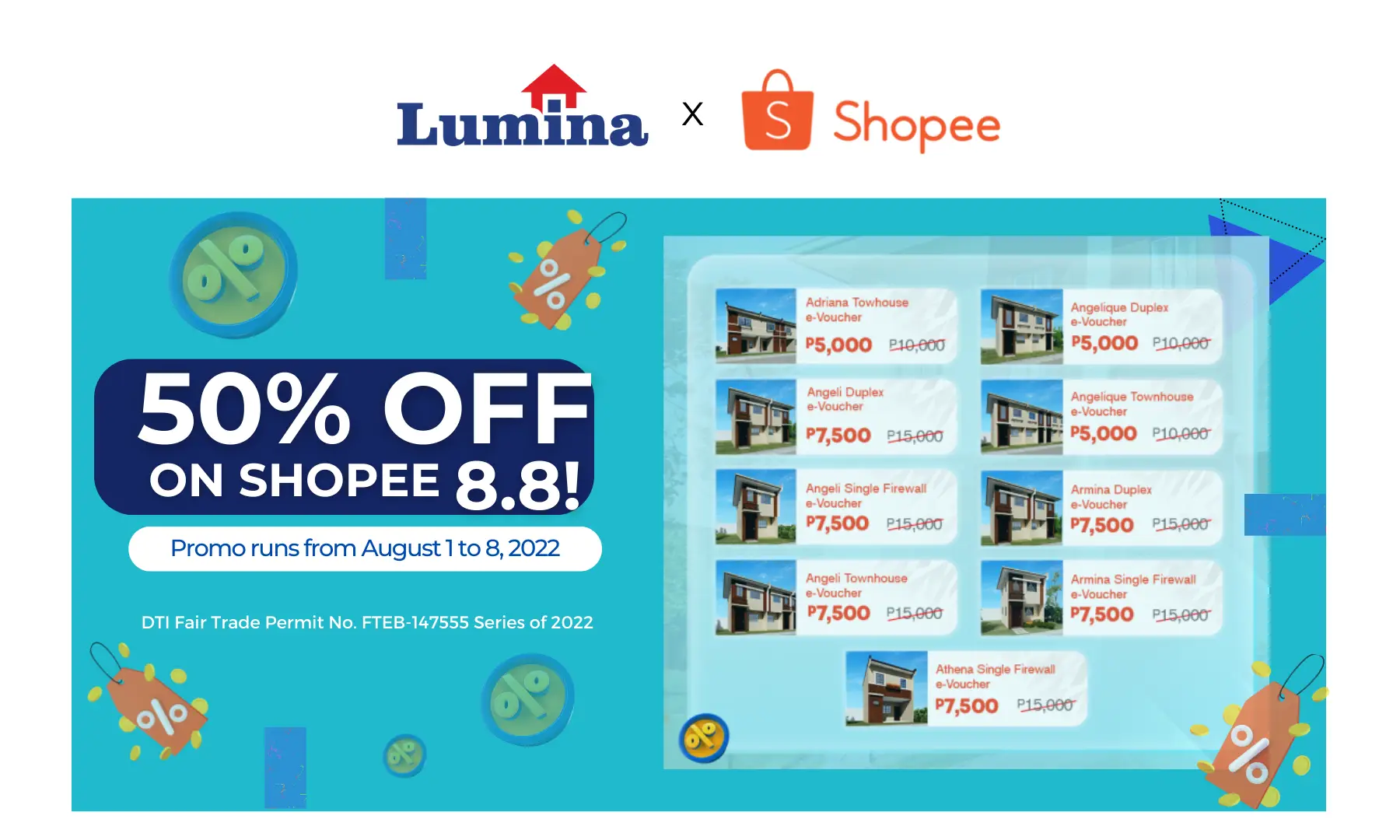 There's no much better and more heart-stirring way to celebrate our 10th Year Anniversary of trust, happiness, and making Filipino dreams come true than a Shopee 8.8 Sale!
It's Lumina Homes' birthday month this August and we are blazing our 10 Years celebration "Stronger 10 and Now" with an assortment of awesome as well as exciting activities and promos that you should watch for—dawning it with our Shopee 8.8 Sale.
Shopee 8.8 also marks the beginning of its extensive Christmas freebies, starting with this fantastic 50% reservation discount during Shopee 8.8. Mark your calendars this August 1 to 8, 2022 and get your most sought-after Lumina Home model unit's reservation fee half of its regular price.
Get that eagerness kick into your veins and shopping cart as you can now make your home reservations and start a lucrative and secure life investment for as low as Php 5, 000 this month. So, before you start checking out your usual monthly buying list this coming Shopee 8.8 Sale, make sure to head off to Lumina Homes Shopee Mall store and make that lifetime investment everyone of us is dreaming of!
Here is an easy to follow procedure to guide you in getting the 50% discounted reservation fee e-voucher from Lumina Homes:
Step 1. Visit our Lumina Homes Shopee Mall official store at www.shopee.ph/luminahomesofficial.
Step 2. Look through the e-vouchers for home reservations that are already available or that are being featured in our store.
Step 3. Get in touch with the seller to find out which Lumina Homes projects location you may spend your e-voucher on. Additional information can also be found in the e-voucher description.
Step 4. After choosing your preferred home model unit, simply click "Buy Now" or "Add to Cart" to pay for your desired e-voucher and proceed to pay with your credit card, GCash, or Shopee Pay account.
Step 5. A notice of the sale will be sent to the Lumina Homes Expert, who will then call you to set up an online meeting or appointment for a marketing briefing and for the necessary documents completion.
You can choose from our in-demand home model units that will reliably match your lifestyle and family's needs such as Adriana Tonwhouse, Angelique Townhouse, Angelique Duplex, Angeli Townhouse, Angeli Duplex, Armina Duplex, Angeli Single Firewall, Armina Single Firewall, and Athena Single Firewall home units.
If you're in Luzon, Visayas, or Mindanao, you may choose your ideal location as Lumina Homes have a total of over 50 communities all over the Philippines' key cities and municipalities. You can choose from our flagship communities found in Bataan, Rizal, Zambales, Bulacan, Quezon, Nueva Ecija, Laguna, Tarlac, Batangas, Pangasinan, La Union, Cavite, Cagayan, Cebu, Albay, Negros Occidental, Iloilo, Sorsogon, Agusan del Norte, Davao del Norte, Zamboanga del Sur, Misamis Occidental, and Bukidnon.
Grab this opportunity now and begin your home buying journey with us for a fraction of our house reservation fee's original cost and give yourself and your family the gift of sustainability and security in the years to come.
Walk through our innovative communities and experience Lumina Homes' desirable houses that you'll know you've made the perfect choice!
DTI Fair Trade Permit No. FTEB-147555 Series of 2022.

Try our Home Loan Calculator
Loan Calculator
Try Lumina Homes' loan calculator and get an estimate computation for your preferred Lumina property and home model.