Avail Lumina Homes' 10% Discount at Shopee 7.7 Mid-Year Sale
30 June 2022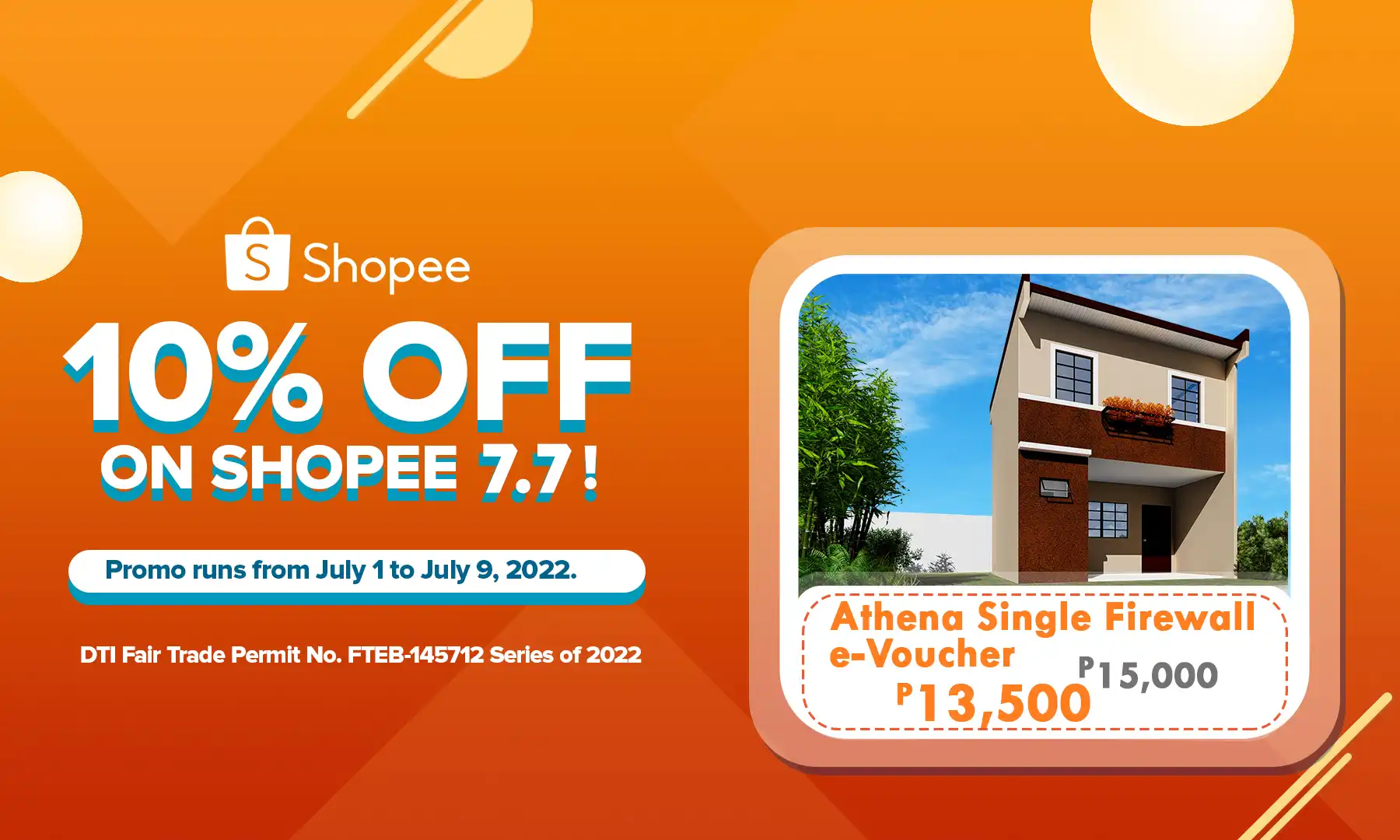 Mark your calendars and get great discounts as Lumina Homes promos continue offering a 10% discount during the Shopee 7.7 Mid-Year Sale from July 1 to 9, 2022!
The middle of this year came around, and the months flew by quickly. Thankfully, Lumina Homes' discounted e-voucher and promos on reservation fee don't, as we always have something new for you to look forward to every month.
We know how important your lifelong dream is to have a space you can call your own. That is why Lumina Homes provides you with all the opportunities you need to purchase a house and lot package at a discounted price.
You can achieve both short- and long-term financial freedom goals by having your own house, which is more than simply a marketing gimmick. In the long run, you'll establish an equity nest egg, while in the long term, you'll be able to take advantage of possible passive income and avoid paying a rental fee to a space that could never be yours.
Shopee 7.7 Mid-Year Sale
Shopee users may take advantage of exclusive home reservation savings offered by Lumina for Shopee 7.7 Mid-Year Sale. The e-vouchers offered by Lumina Homes from July 1 to July 9 are being offered at a discount of 10%! You can choose from our best-selling home model units: Angelique Townhouse, Adriana Townhouse, Angeli Townhouse, Angelique Duplex, Angeli Duplex, Armina Duplex, Angeli Single Firewall, Armina Single Firewall, and Athena Single Firewall house and lot units!
To avail of this excellent home package discount, all you have to do is to follow these steps:
Step 1. You can follow Lumina Homes on Shopee Mall at www.shopee.ph/luminahomesofficial and get notified of our latest monthly promos and discounts.

Step 2. Check out the e-vouchers for house reservation discounts that we currently offer.

Step 3. E-vouchers may be used at several Lumina Homes sites, and you can learn more about the locations by reading the e-voucher description and chatting with the vendor.

Step 4. Click "Buy Now" or "Add to Cart" and pay for the e-voucher using your selected method, such as a GCash payment, Shopee Pay, Shopee Pay Later, a connected bank account, or more.

Step 5. After that, Lumina Homes will be notified of the transaction. This will also mark the beginning of your home buying journey. Your online appointments, such as marketing briefings and document completion, will be scheduled by a Lumina representative after this.
Why Lumina Homes is the Perfect Housing Investment for You
Still undecided whether investing in Lumina Homes is worth it for you? Below is just some of the best reasons why our 10-year property brand is a great real estate investment choice for an aspiring homeowner like you:
Affordable house and lot
Lumina Homes is known to be a top homebuilder of affordable house and lot for sale, so much so that it was recognized as the Best Developer for Affordable Housing by Carousell Property Awards. Our value-priced homes have been patronized by low- to middle-income families who dreamed of having their own homes without spending more money than they could afford. And despite the relatively cheaper prices, the quality of the house construction was not sacrificed.
Quality perks and amenities
Complementary to our affordable homes are the quality perks and amenities that come integral to them. Our spacious and sustainable communities are equipped with amenities such as a multipurpose hall, sports court, gazebos, mini-gardens, a play area, jogging path, guarded entrances, and a community center that can accommodate different functional offices for the entire Lumina community.
Comfort and convenience
One of the things that set Lumina communities apart is the relaxing atmosphere, which is made possible by the provincial background through green spaces. Coming home to your Lumina home is something you'd look forward to because of how it can make you truly feel at home. Aside from this, you won't have to travel far or worry about lack of access to essential establishments, as Lumina developments are located in proximity to schools, supermarkets, leisure areas, tourist spots, hospitals, churches, government offices, and major roads and thoroughfares.
Varied home designs and models
To give you great options, Lumina Homes house and lot units have varying models. This shall help you decide on which house model best fits your home and lifestyle needs. For example, whether you fancy a two- or three-bedroom unit, all Lumina home models are suitable for you, namely: Duplexes, Townhouses, and Single Firewall Homes. These are best-selling house models which have been proven to provide immense comfort to homeowners.
Award-winning developer reputation
Lumina Homes has houses and lots for sale in more than 50 of the country's most important cities and towns. Lumina Homes grew from a neophyte developer to becoming one of the most sought-after builders of affordable housing. You can check out Lumina Homes community sites that we have in Rizal, Cavite, Batangas, Laguna, Bulacan, Bataan, Tarlac, Pangasinan, La Union, Cagayan, Zambales, Nueva Ecija, Quezon, Albay, Sorsogon, Cebu, Iloilo, Bacolod, Agusan del Norte, Zamboanga del Sur, Bukidnon, Misamis Occidental, and Davao del Norte by dropping by in our communities and scheduling a site tripping.
Or you can take advantage of the convenience of technology and visit our website to try our 360 degrees Virtual Tour and make your home reservations online! If you're a real estate investor, you can start earning capital income and reap the rewards of property appreciation over time!
"Businesses increasingly rely on digital innovation to simplify their operations and boost operational efficiency in the current environment. Lumina Homes is continuously partnering with Shopee to introduce online home shopping to property seekers and stay ahead of the real estate industry," says Mr. Francis Dominick Manabat, Digital Innovation Head of Lumina Homes.
Whichever your Lumina Homes location nationwide is, there is a Lumina Homes community waiting for your immediate occupancy. Take advantage of our house and lot discounts with Lumina Homes through our Shopee Mall Store this Mid-Year Sale! For updates and real estate advice, feel free to browse through and visit Lumina Homes' official website. Get in touch with an accredited Lumina Homes sales person today and claim your Lumina Home house and lot in the Philippines!
LUMINA HOMES X SHOPEE 7.7 PROMO DTI Fair Trade Permit No. FTEB-145712 Series of 2022

Try our Home Loan Calculator
Loan Calculator
Try Lumina Homes' loan calculator and get an estimate computation for your preferred Lumina property and home model.