Avail Lumina Homes' 10% Discount at Shopee 7.7 Mid-Year Sale
30 June 2022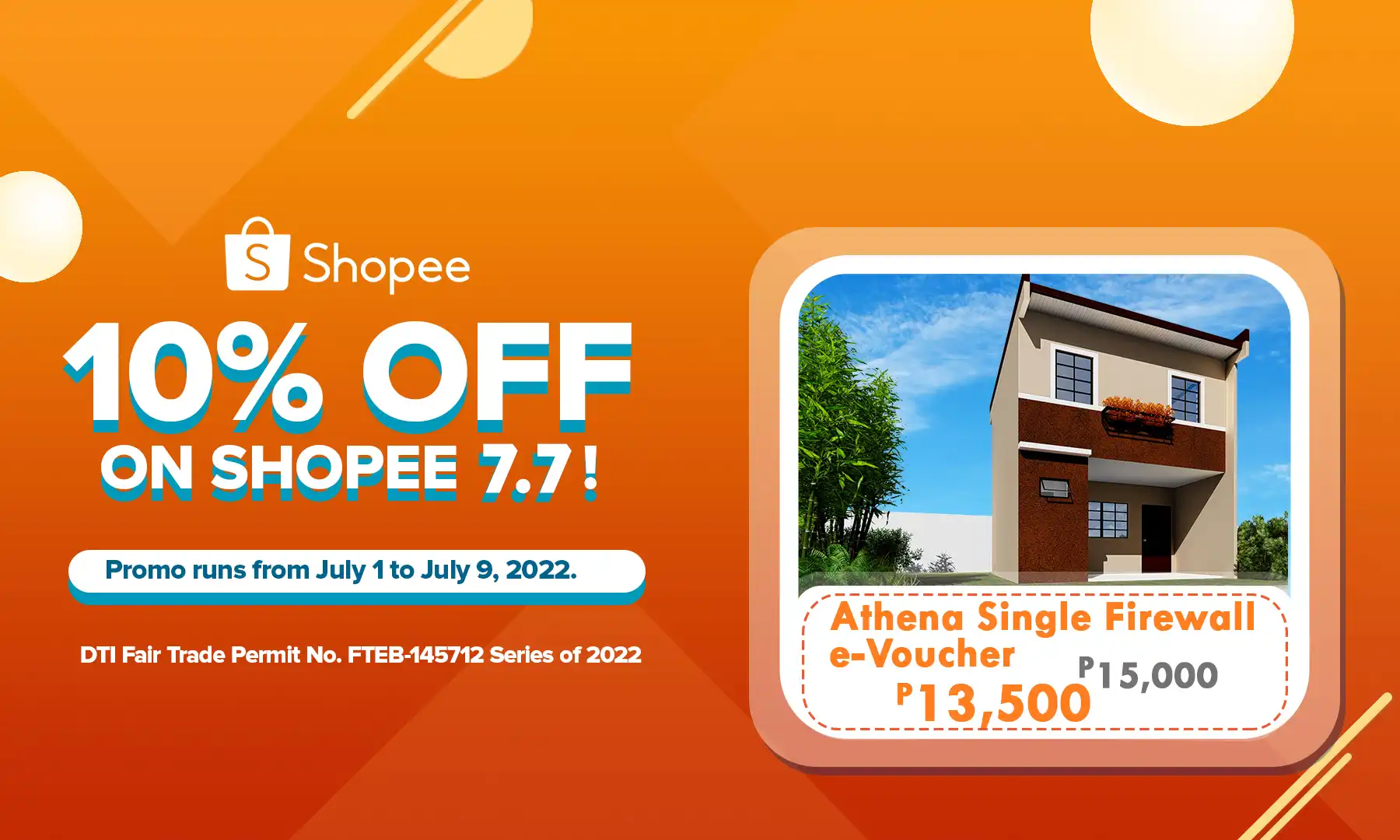 Mark your calendars and get great discounts as Lumina continues offering a 10% discount during the Shopee 7.7 Mid-Year Sale from July 1 to 9, 2022!
The middle of this year came around, and the months flew by quickly. Thankfully, the discounts and promos of Lumina Homes don't, as we always have something new for you to look forward to every month.
We know how important your lifelong dream is to have a space you can call your own that is why Lumina Homes provide you all the opportunities you need to purchase a house and lot package at a discounted price.
You can achieve both short- and long-term financial success by having your own house, which is more than simply a marketing gimmick. In the long run, you'll establish an equity nest egg, while in the long term, you'll be able to take advantage of possible passive income and avoid paying a rental fee to a space that could never be yours.
Shopee 7.7 Mid-Year Sale

Shopee users may take advantage of exclusive home reservation savings offered by Lumina for Shopee 7.7 Mid-Year Sale. The e-vouchers offered by Lumina Homes from July 1 to July 9 are being offered at a discount of 10%! You can choose from our best-selling home model units: Angelique Townhouse, Adriana Townhouse, Angeli Townhouse, Angelique Duplex, Angeli Duplex, Armina Duplex, Angeli Single Firewall, Armina Single Firewall, and Athena Single Firewall house and lot units!
To avail of this excellent home package discount, all you have to do is to follow these steps:
Step 1. You can follow Lumina Homes on Shopee Mall at www.shopee.ph/luminahomesofficial and get notified of our latest monthly promos and discounts.

Step 2. Check out the e-vouchers for house reservation discounts that we currently offer.

Step 3. E-vouchers may be used at several Lumina Homes sites, and you can learn more about the locations by reading the e-voucher description and chatting with the vendor.

Step 4. Click "Buy Now" or "Add to Cart" and pay for the e-voucher using your selected method, such as a GCash payment, Shopee Pay, Shopee Pay Later, a connected bank account, or more.

Step 5. After that, Lumina Homes will be notified of the transaction. This will also be the start of your home buying journey. Your online appointments, such as marketing briefings and document completion, will be scheduled by a Lumina representative after this.
Lumina Homes has houses and lots for sale in more than 50 of the country's most important cities and towns. You can check out the Lumina Homes project sites that we have in Rizal, Cavite, Batangas, Laguna, Bulacan, Bataan, Tarlac, Pangasinan, La Union, Cagayan, Zambales, Nueva Ecija, Quezon, Albay, Sorsogon, Cebu, Iloilo, Bacolod, Agusan del Norte, Zamboanga del Sur, Bukidnon, Misamis Occidental, and Davao del Norte by dropping by in our communities and scheduling a site tripping.
Or you can take advantage of the convenience of technology and visit our website to try our 360 degrees Virtual Tour and make your home reservations online!
"Businesses increasingly rely on digital innovation to simplify their operations and boost operational efficiency in the current environment. Lumina Homes is continuously partnering with Shopee to introduce online home shopping to property seekers and stay ahead of the real estate industry," says Mr. Francis Dominick Manabat, Digital Innovation Head of Lumina Homes.
Take advantage of the power of technology and great house and lot discounts with Lumina Homes and Shopee 7.7 Mid-Year Sale Event!
LUMINA HOMES X SHOPEE 7.7 PROMO
DTI Fair Trade Permit No. FTEB-145712 Series of 2022

Try our Home Loan Calculator
Loan Calculator
Try Lumina Homes' loan calculator and get an estimate computation for your preferred Lumina property and home model.