What is Better: Condo or House and Lot?
17 July 2022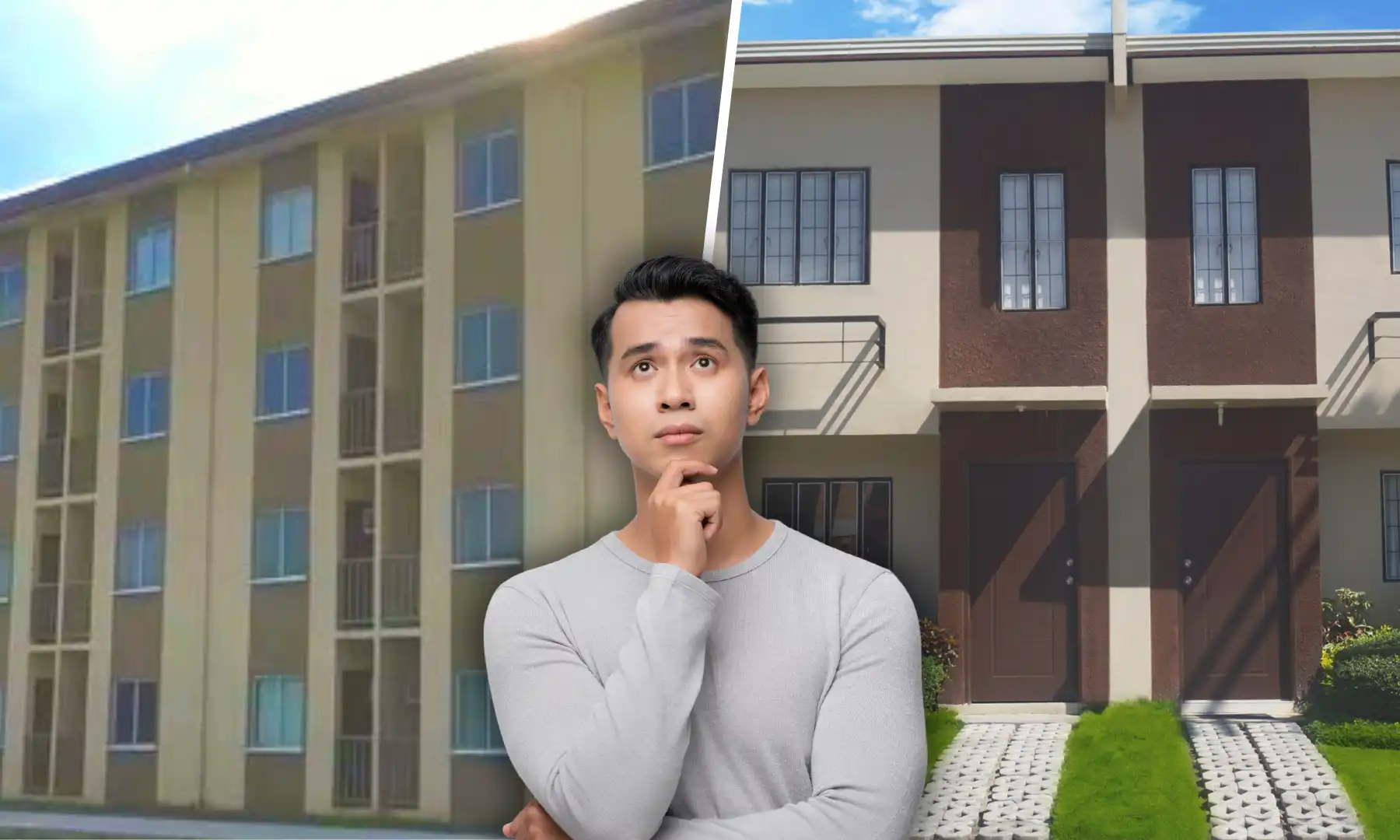 Are you at a point in your life where you're thinking of buying a space to call your own? It's not a decision you can make lightly as it entails lots of responsibilities, effort, and money that you have worked hard for.
If you're at the stage of your life where you're preparing to purchase one, then you should get as much information as you can to make a well-informed choice. Are you ready to answer the question: which is better, a condo or a house and lot?
CONDO VS. HOUSE AND LOT: What's the Difference?

Deciding where to live is not an easy feat. In the Philippines, Condo Living and Residential Housing are two of the common ways you can own a space to call your own. Both of them are livable spaces. Both have their own pros and cons. But before choosing between the two, it's important to define which do we call a house, and which one do we consider a condominium?
HOUSE AND LOT

Philrealtyglobal defines a house and lot as an allotted land owned by an individual as recognized and assigned by a governing body. It involves long-term ownership which can be considered as estate or property which can be passed on to their families.
A residential house and lot come in various shapes and sizes, especially in the Philippine setting. From tiny houses to mansions in exclusive villages, these are called houses and lots for you and your family to live in. This also includes the traditional house your grandparents and relatives live in and where you get to visit during vacation.
CONDOMINIUM
On the other hand, Investopedia defines a condominium or a condo as a property complex composed of many units; with each unit owned separately by different individuals. Condo living entails shared space with people living in the same lot where your condo building is erected.
Think of a condo as a condensed version of a house. You still have a living space, but perhaps not as spacious as a house and lot. You also live in close proximity with neighbors, as you have them to your left, right, and even above and below, as well.
IMPORTANT FACTORS TO CONSIDER IN CHOOSING THE RIGHT PROPERTY FOR YOU
Now that you have an idea of what a house and lot and condo unit are, you need to determine the factors you need to consider in choosing your future home. Are you fit to be condo owners or will your first property be a house so you could have bigger space for activities? Evaluate your options with these factors when you need to choose between a house or a condo unit.
1. LOCATION
In choosing a property where you want to live, do you prefer prime locations close to business districts, and commercial establishments? If you do, then you can choose from the various condo projects in Metro Manila.
These urban areas are perfect for those who want to be unit owners of condos as they present the convenience that most professionals need as they work.
On the other hand, if you want to be among those with landed properties, choose to invest in a house and lot as early as possible. With a house and lot, you have the choice of where you can live.
You are not confined to the populous central business districts and be saddled with transportation expenses, just to get from point A to point B. You can choose from a host of property developers around the country and still be near the city or town proper. Usually, these communities are within the walking distance of commercial areas, so you don't need to worry about basic commodities and services such as hospitals, government offices, and even leisure parks.
2. FUTURE VALUE
Just like any real estate market, the Philippine real estate market considers a property to be an asset rather than a liability. As both a condo and a house are considered real estate properties, you can consider them long-term investments
.
However, in terms of future value, when you acquire a condo unit in a high-rise building, you may be missing out on your maximized buying power. This is because of the nature of the property you are buying. Most condominium projects are centered on being exclusively residential. Should you wish to convert it to a business office, you may need to seek the permission of the management of the condos and even be subject to the consensus of other condo dwellers.
On the other hand, when you buy a house and lot, It's not uncommon to make your house the place where you first start your own business. May it be a sari-sari store or even a coffee shop, people have the freedom to build their businesses within their lot properties. With these viable developments happening within your own backyard, you can maximize the future value of your investment.
3. AMENITIES
If you are more concerned with the amenities you can enjoy in the place where you will live, you will enjoy living in condos. With condo complexes, you may expect amenities such as fitness centers, convenience stores, swimming pools, and function rooms you can use for activities and events you might have.
Admittedly, when you choose to live with a residential house and lot, you won't expect to have such things, if you don't incorporate them into your house plans. However, amenities that a house can offer to possible property owners are storage space and outdoor space. As condo residents share a common space, they can all enjoy their amenities through reservations. In the case of your own house, you have the luxury of space. Your backyard may be a garage, a garden, or even a play area for the kids, sometimes, all three at the same time. You can use some square meter portion of your property to convert a shed for tools, or a dirty kitchen for daily use.
4. PRICE
One of the foremost considerations any interested buyer will check is the price of a property. Buying a piece of property entails enough funds for you to have. However, because of economic developments, flexible payment schemes were introduced, among them several housing loan options from both private and government firms that will make it possible for you to get the most affordable house. For condos, you can make use of a loan calculator so you can have total control when you purchase condos, too.
However, the price does not exclusively mean the price of the property you will purchase. It also entails other hidden fees you may encounter along the course of ownership. In the case of living in condos, you need to also consider HOA fees, also known as Home Owners Association fees, maintenance bills, and on top of that, utility bills.
Meanwhile, these bills are also a reality for house and lot owners. They may have or have no HOA fees, as it may vary depending on where they live--an exclusive subdivision or a gated village. Still, the maintenance bills, as well as utility bills, are also shouldered by the property owners themselves.
5. MAINTENANCE
As mentioned earlier, maintenance for your chosen property should also be considered. Condo owners and condo dwellers can report their building maintenance to the property maintenance personnel of their building complex. Some condos even have on-call maintenance in case of emergency.
House and lot property owners, meanwhile, are completely responsible for all their maintenance needs. For all the maintenance needs of the property, it pays to have your go-to guy who can help you repair and maintain your home.
6. SECURITY
This is usually one of the factors that are most overlooked by interested buyers in the past. However, it has now become one of the important factors to look for in a property. Despite each space boasting of having a secure and safe place, several instances of theft and robbery can still occur in both condo buildings, and house and lot.
Having a secure place is important for possible property owners, especially young professionals, long-term overseas workers, and even first-time buyers as most of them spend outside, or alternatively, welcome visitors to their homes. As a result, a place where security is a priority not only for their valuables but especially for their family.
7. YOUR LIFESTYLE

Perhaps, this is the deciding factor for your future home. More than the property type, amenities, and future value, it is how you live that can dictate which living space best suits you.
If you want city living, are comfortable in staying long-term in a high-rise building, and want the low maintenance lifestyle, then you can start by looking at condo units.
But should you want to stay away from the chaos, thickly-populated and heavily exposed to pollution, then choose to buy a house and lot in the suburban areas. They still have all the services and activities that you can see in the metro, it's just that you have larger spaces to enjoy, which is best for accommodating families.
Lumina Homes eSpacio: House and Lot Property with the amenities of Condo Living
If you haven't realized by now, space is now a commodity that you can buy. One attractive thing about high-rise properties is that they make use of vertical space to make amenities available to their community. But once again, it is limited by the available space for the amenities they can offer.
For residential homes within Lumina, you can have the best of what a house and lot and condo living has to offer. When you choose a Lumina Home, you can enjoy and maximize the space you have for your property. At the same time, within our communities, we built the eSpacio, an amenities center where Lumina homeowners can do their livelihood, entertainment, and recreation activities within the subdivision. It is a safe haven for you and your family to enjoy the benefits of condo living while staying at your dream home.
With all the factors presented, do you already have a long-term investment in mind? If you need help in getting started, our marketing office professionals can help you take the first step.
For more information about Lumina Homes' affordable house and lot for sale, feel free to contact (0917) 629 6523.
Visit Lumina Homes' official online channels: Facebook, Twitter, Instagram, YouTube, Google MyBusiness and Google Maps, Pinterest, Spotify, Viber, Telegram, Lazada, and Shopee.

Try our Home Loan Calculator
Loan Calculator
Try Lumina Homes' loan calculator and get an estimate computation for your preferred Lumina property and home model.