Top 5 Loan Rejection Reasons and Tips to Get Approved
30 May 2023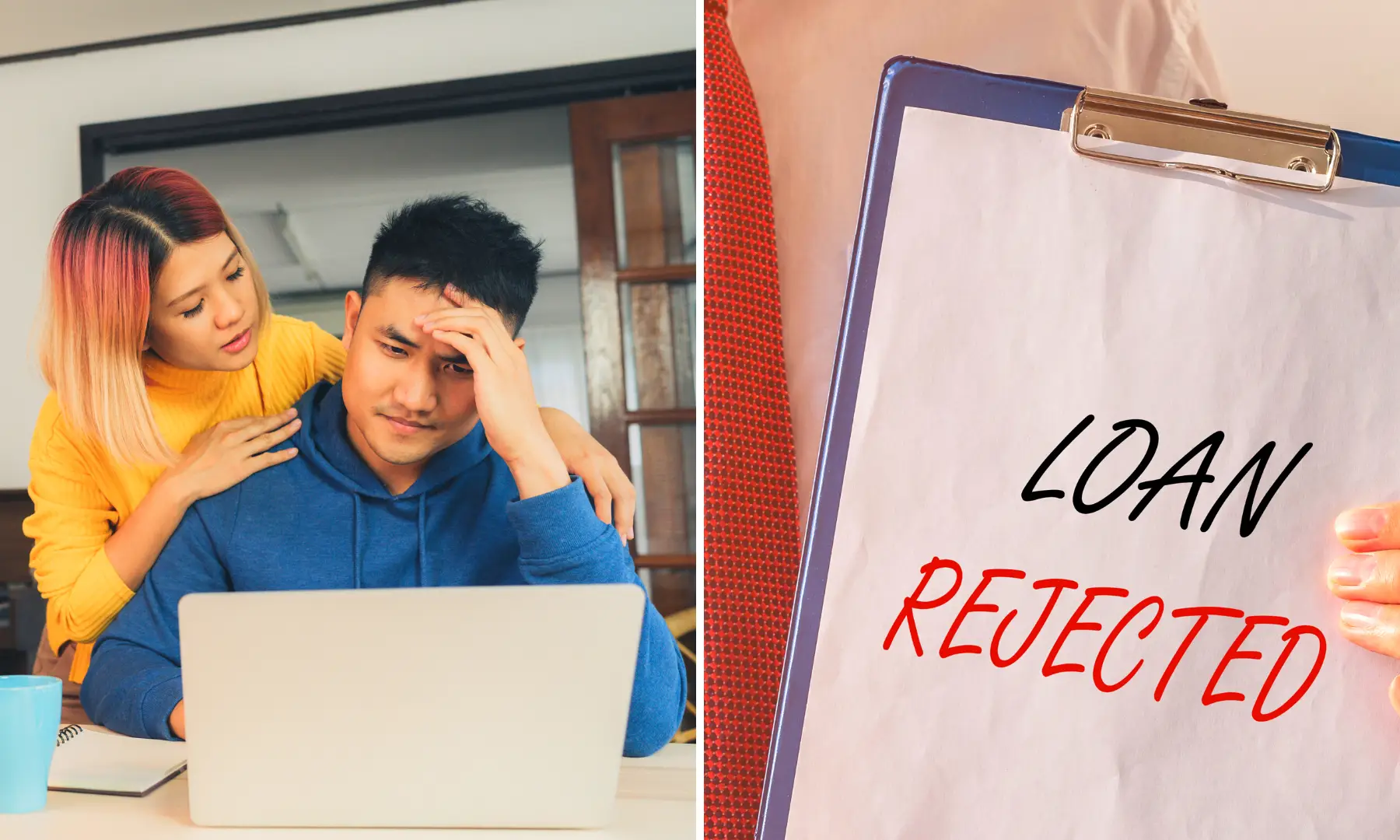 You submitted all the requirements, and your hopes were high that your loan application will be approved, and that you will receive your loan proceeds in no time. Unfortunately, you were just informed that your loan application was denied. They did not specifically state the reasons why. Naturally, you feel immensely disappointed, maybe even brokenhearted.
Not needless to say, while undisclosed by the loan officers, there are underlying reasons behind loan application rejections. In this blog, allow us to help you understand what these loan rejection reasons are and, by extension, give you valuable tips to get approved the next time you decide to reapply.
Top 5 Loan Rejection Reasons in the Philippines
Without further ado, let's discuss the key reasons why loans in the Philippines get denied despite having confidence that they should have been approved. These common loan rejection reasons are as follows:
Inadequate source of income

Employment instability

Too much loan amount requested

Bad or low credit score

You simply didn't qualify based on the standards set
1. Inadequate source of income
Arguably the most important factor to guarantee a loan approval is an adequate source of income. It serves as solid proof that you can dutifully pay your monthly dues on time. As such, without incontestable proof that your income is enough, your loan application is bound to be rejected.
2. Employment instability
In addition to having an insufficient income, employment instability is yet another major reason why loans are being denied and rejected. Ideally, you must be continuously employed for at least two years. If there are gaps in your resume, so to speak, your loan provider will question your repayment capabilities. Unstable employment indicates your income is also unsteady, and that you may lose your job anytime.
3. Too much loan amount requested
Sometimes, loan applicants request for a loan amount that's not proportional to how much they earn a month or on a yearly basis. For example, a lending institution may require that you have a gross income amount of at least P250,000 a year. Meanwhile, you requested a loan amount that the loan officer thinks is way too high for your monthly income. After all, you have other financial obligations aside from your future loan dues. If you get approved for a large amount with a meager monthly paycheck, you will either end up missing payments or starve.
4. Bad or low credit score
Financial institutions make thorough reviews of every applicant's borrowing history, if any. If you have a record of missed or delayed payments or nonpayments altogether, the lending institution will not trust you that you will be able to make ontime payments, aa your borrowing history demonstrates your repayment incapabilities. This will significantly reflect on your credit score and affect your future borrowing plans.
5. You simply didn't qualify based on the standards set
Lending institutions and entities have a set of criteria as to who are eligible for a personal loan application approval and who doesn't. It can be as simple as one's failure to meet the minimum age requirement, or as fairly complicated as a bad credit history to employment instability. This could be heartbreaking news, but there are ways to rectify the situation, which we will discuss ahead.
Tips to Get Your Next Loan Application Approved
It could feel discouraging to try again if you were rejected the first time. Be that as it may, you should instead take this as a learning opportunity and assess what might have gone wrong that rendered your application denied. But here, we'll help you figure it all out and increase your chances of approval the next time you apply for car, housing, or personal loans.
Apply for a secured loan and/or get a co-borrower
Secured loans are a loan type that collateralizes an asset such as a real property or a vehicle. This gives creditors the guaranty that, if the borrower's loan defaults, they can take the pledged property as collateral. Doing this can help you achieve a personal loan approval. Aside from opting for a secured loan, getting a co-borrower or a guarantor also helps to increase your chances of approval and, conversely, decrease the likelihood of a personal loan rejection.
Engage in side hustles to supplement your income
If your monthly salary doesn't meet the minimum income requirement, or if you're opting to avail of a higher loan amount, engaging in a side hustle or part-time work will help you increase your income. Freelancing is a great option to achieve this, and there are a lot of in-demand freelance jobs that don't necessitate you to work in the office or at a certain period of time. You can work anytime without abandoning your office job.
Don't quit your job at the time of application
If you've been thinking of quitting your current your job because it's toxic or you don't find it fulfilling anymore, now may not be the time to do that if your main goal is to first secure a loan. As discussed, financial stability is one of the key requirements to get approved for a loan, and quitting your job means you will not have any source of income, unless you get a new job right after your resignation.
Lower your loan amount request
Maybe you're actually qualified to be granted a personal loan, but your lender felt that your requested loan amount is unrealistic. For example, you're applying for a home loan. The property you're eyeing is quite expensive. And the loan officer thinks that, with your monthly income, the property's price is a little too high, and that you may not be able to pay for the substantial monthly payments. Or, it will compromise your other financial obligations, especially if you have multiple dependents. With all this said, the solution is simple and straightforward — lower the loan amount you're applying for. It's much better than coming home with nothing at all.
Work on increasing your credit score
Lending institutions such as banks scrutinize your credit report to assess whether you're a responsible borrower. This is especially true if you're requesting for a relatively huge amount. Your future loan provider needs assurance that you have the repayment capability necessary to fulfill your future loan obligations. Credit history, and a borrower's credit score for that matter, will help them decide. You can work on growing your credit score by making sure to pay all your debts fast, be it a debt you owe a coworker or a credit card debt to reduce your credit utilization.
If you're planning to apply for a housing loan, consider opting for an affordable house and lot for sale to up your chances of approval. Lumina Homes, the affordable housing segment of Vista Land, caters exactly to Filipino families who dream of having a house and lot to call their own without having to max out all their savings. At the same time, the affordable home they dream of must not sacrifice quality and convenience.
These are what our housing brand is known for and best at — affordability matched with quality home features. Ready to achieve homeownership this 2023? Lumina Homes can help you realize that dream. Speak to an accredited seller today and become a Lumina homeowner in a relaxing neighborhood near business centers and essential stores!

Try our Home Loan Calculator
Loan Calculator
Try Lumina Homes' loan calculator and get an estimate computation for your preferred Lumina property and home model.