[UPDATED] Complete Guide: How to Apply for a Philippine National ID
17 June 2021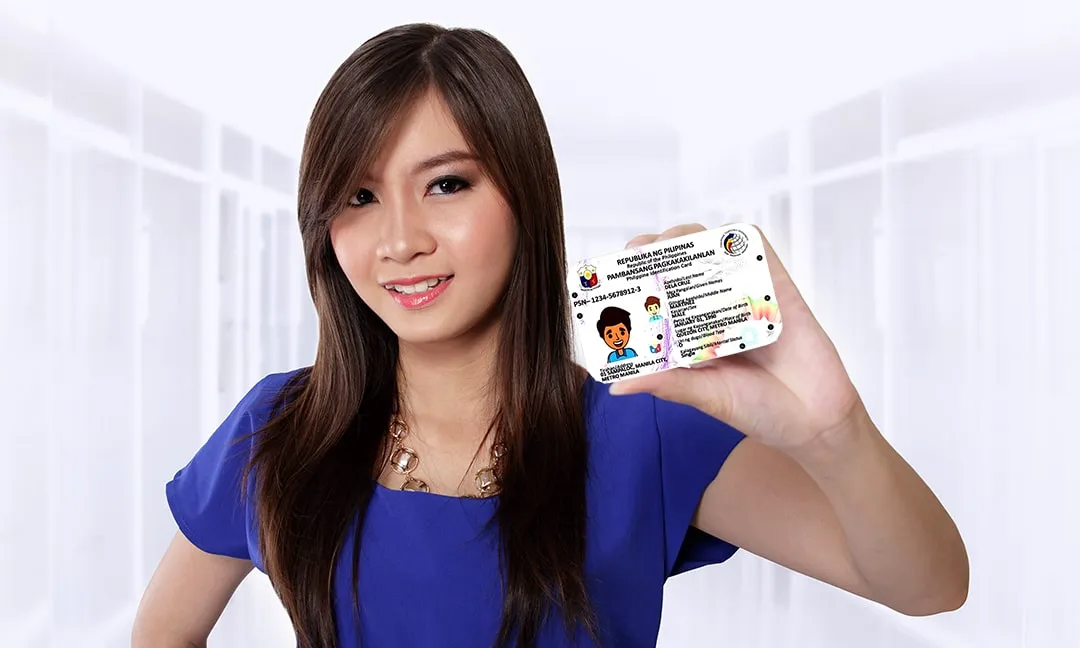 The Philippine Identification System Act, also known as the Republic Act No. 11055, was signed by President Rodrigo Duterte on August 06, 2018, which aims for every Filipino and resident aliens of our country to have a single national identification card.
The Philippine National ID is free and will not replace the other existing IDs but can be used as a proof of identity to help ease the transactions for all the government and private sectors through its quicker and easier validation and authentication of one's identity. You will have to pay it if you lost or damaged your ID. It also has no expiration except for the PhilIDs issued to the resident aliens as it will be only valid for one (1) year.
PhilSys will simplify a digital foundational ID system in most public and private transactions across the country. The smooth social service delivery and financial inclusion for public and private services will be facilitated and enhanced. It is also built on a Privacy-by-Design principle so that the privacy and security of the information of the individuals will be protected under this latest technology and innovation system.
Here are the steps on how to apply for a Philippine National ID: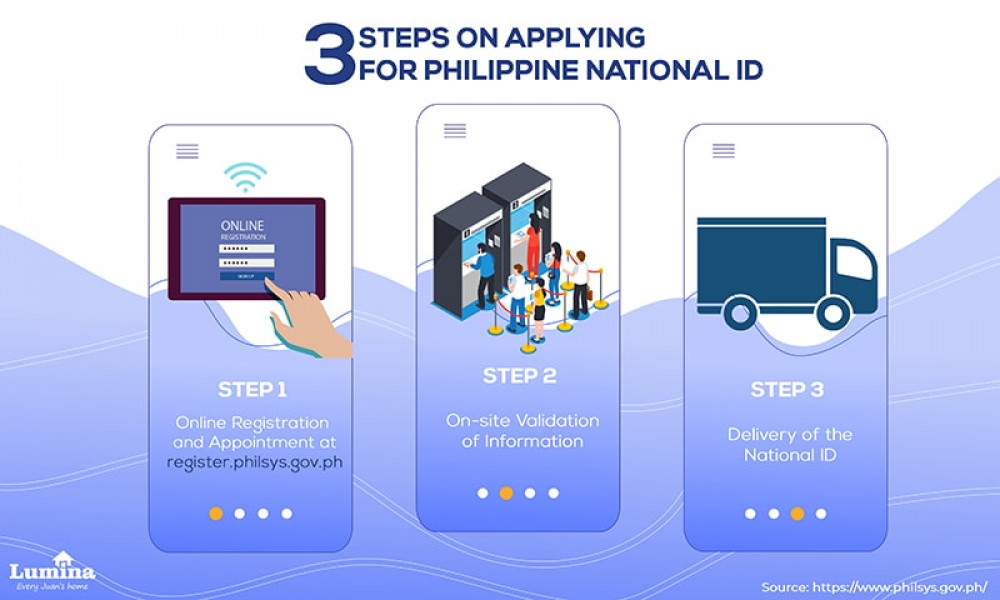 Step 1. Online Registration and Appointment
Register your application online by visiting the site: register.philsys.gov.ph and filling out all the required fields before submitting your application form. Please keep a copy of your Application Reference Number (ARN) or QR code as you will need to show it at the registration center. Be sure to book your chosen appointment time before continuing to the next step.
Step 2. On-site Validation of Information.
Present your ARN or QR code, as well as an original copy of supporting documents, to your assigned registration center on the day of your appointment.
The supporting documents needed to be presented must be an original copy of at least one (1) primary or secondary document.
What are the Primary Documents?
Certificate of Live Birth issued by PSA and one (1) government-issued identification document indicates your full name, a front-facing photograph, and with signature or thumb mark.

Philippine Passport or e-Passport issued by DFA;

Unified Multi-purpose Identification Card (UMID) issued by either GSIS or SSS;

Student's License Permit or Non-Professional or Professional Driver's License issued by Land Transportation Office (LTO)
What are the Secondary Documents?
Secondary documents are to be presented if the primary requirements are not available such as:
SSS ID

Philhealth ID

Taxpayer Identification Number (TIN) ID

Postal ID

Senior Citizen's ID

PWD ID

Solo Parent's ID

Police Clearance

NBI Clearance

Professional Regulatory Commission (PRC) ID

Integrated Bar of the Philippines (IBP) ID

Certificate of Live Birth with a Birth Reference Number (BreN) issued by NSO

PSA-issued Certificate of Live Birth

PSA-issued Report of Birth

PSA-issued Certificate of Foundling

LCRO-issued Certificate of Live Birth

Pantawid Pamilyang Pilipino Program (4Ps) ID

Philippine Retirement Authority-issued Special Resident Retiree's Visa (SRRV)

Seaman's Book

Overseas Workers Welfare Administration (OWWA) ID

National ID from other countries

Residence ID from other countries

License to Own or Possess Firearms ID
You can also provide the following documents as long as it has your details like Full Name, Permanent Address, Date of Birth, and with front-facing photograph, and signature or thumbmark.
Employee ID

School ID

Barangay Clearance or Barangay Certificate

City or Municipal ID

Barangay ID
Aside from the validation of documents, the registration center will also collect biometric information such as fingerprints, iris scans, and photographs.
Step 3. Delivery of the National ID.
Wait for the issuance of your PhilSys Number (PSN) and delivery PhilID on your provided current address. Present your transaction slip or any valid ID to the courier for proper verification.
Having a National ID also means that your information will be saved in a digital foundational ID system that will help to transform the Philippines deliverables and processes into digital, presence less paperless, and contactless transactions.
Where are the Registration Centers for the Philippine National ID?
For Filipino Citizens residing in the Philippines, registration centers are:
PSA Regional and Provincial Offices;

Local Civil Registry Offices (LCROs);

Home Development Mutual Fund (HDMF);

Commission on Elections (COMELEC);

Social Security System (SSS) for members and their dependents;

Government Service Insurance System (GSIS) for members and their dependents;

Philippine Health Insurance Corporation (PhilHealth);

Philippine Postal Corporation (PHLPost); and

Other government agencies and GOCCs may be assigned by PSA
For Overseas Filipino Workers and Filipino citizens who lives abroad, the registration centers are:
Philippine Foreign Service post or nearest Philippine Embassy

other centers that may be designated by DFA in coordination with PSA
List of Registration Centers for Step 2 of Philippine National ID
The following registration centers are located throughout the country and cater to individuals who already have a valid schedule for Step 2 registration. Walk-ins are not recommended and will be accommodated only if there are available slots, in compliance with the PSA's strict health and safety protocols.
National Capital Region
Mandaluyong City Hall
City Hall of San Juan City
City Hall of Marikina City
City Hall of Quezon City
City Hall of Pasig City
City Hall of Makati City
Municipal Hall of Pateros
City Hall of Taguig City
4F, The Grandz Commercial Center Building, Mac Arthur Highway, Calle 4, Barangay 81, Caloocan City
Caloocan City Hall
Malabon City Hall
Navotas City Hall
Valenzuela City Hall
Las Piñas City Hall
Muntinlupa City Hall
Parañaque City Hall
Pasay City Hall
And other municipal halls in different provinces. For the complete list, visit here: https://www.philsys.gov.ph/registration-center/
What are the benefits of having a Philippine National ID?
Increase the accessibility of facilities. All Filipinos will be able to use PhilSys, and its credentials will be approved for the majority of transactions. It will give people access to financial, social, health-care, and other government services.

Ensure that doing business is as simple as possible. It will provide an online platform for the government and private sector to digitally and automatically recognize and verify their customers in both in-person and online transactions.

Improve the quality of services reduce fraud. PhilSys will ensure that each registered person is uniquely identified on a national scale, eliminating identity theft and strengthening the credibility of functional identification registries.

Participation and confidence in digital government and the digital economy will be possible and promoted. PhilSys should enable the government and private sector to make a more widespread transition to digital, online citizen-centric service delivery.

Assist Filipinos in gaining more control over their personal information. When using the Philsys to conduct transactions, PSN holders would manage who sees their data. It will help to increase transparency and accountability in the Philippines when it comes to data use.
What are the practical use of Philippine National ID?
The Philippine National ID can be used as a valid document for the following:
proof of identity when applying for a pag-ibig housing loan
document used to apply for benefits provided by various government agencies like PhilHealth, GSIS, SSS, Pag-IBIG (HDMF), and others

application for travel visa and passport

availing social services and services provided by the government

registration as a voter

driver's license application

various tax requirements and transactions

availing of government-based health services and institutions

application in learning institutions like at public and private schools, universities, learning centers

job application

opening bank accounts like savings and applying for bank loans

other transactions and application process that necessitate some kind of identification
What are the components Philippine Identification System?
PhilSys Number (PSN)

– PSN is a randomly generated, unique, and permanent identification number that will be assigned to each Filipino (citizen or alien) upon birth or via PSA registration based on the rules and provisions set on the Implementing Rules and Regulations of the PhilSys Act. PSN will be incorporated across government agencies, including government-controlled corporations. A person is limited to only one PSN.

PhilSys Registry – Database that stores the PSN that includes history, registration records, and other related information of all PSN registered persons.
Philippine National ID (Phil ID)

– Phil ID is a valid and non-transferable card to be issued to all eligible Filipinos registered in PhilSys per the guidelines issued by the PSA.
The Philippine National ID is the first step of our country to become more advanced in transactions and processes. It will allow the Philippines to transition away from inefficient and costly physical documents, procedures, and credentials and move toward digital alternatives.
Related Articles:
***
For more information on Lumina Homes, contact (0917) 629 6523.

Try our Home Loan Calculator
Loan Calculator
Try Lumina Homes' loan calculator and get an estimate computation for your preferred Lumina property and home model.