Binondo-Intramuros Bridge: The Iconic Bridge Project
10 April 2022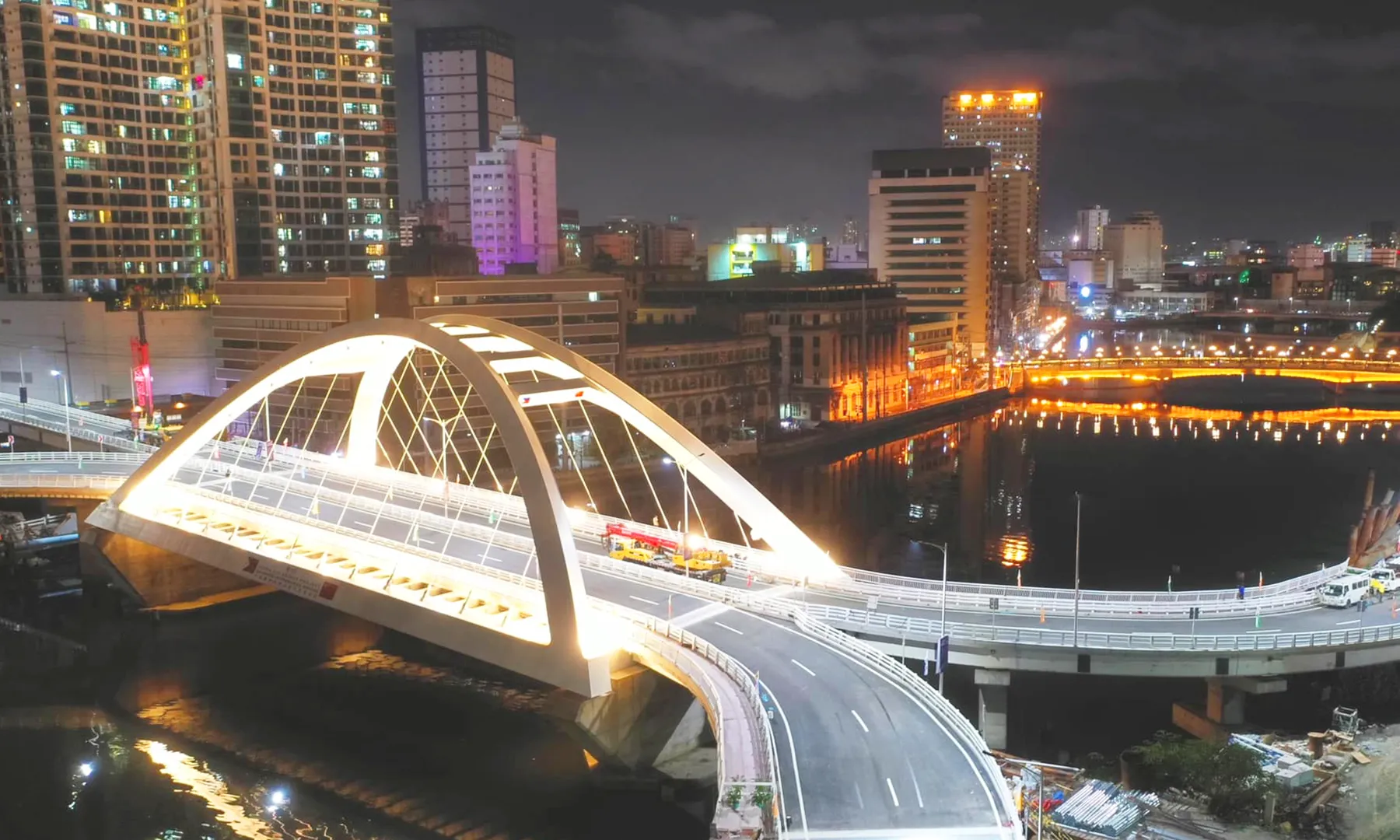 As a result of a Chinese donation, the new Binondo-Intramuros Bridge was inaugurated last April 5 and was opened to traffic on April 6, 2022 right in time before the Holy Week. The bridge between Intramuros and Manila's Chinatown was inaugurated by the Philippine President Rodrigo Roa Duterte, who presided over the ceremony.
President Rodrigo Roa Duterte thanked China during his inaugural address saying that they have been a "partner in strengthening major infrastructure projects" for the Philippines.
In an effort to alleviate traffic on Manila's busiest thoroughfares, the Metro Manila Logistics Network Program built the new bridges. Only the Plaza del Conde Street to San Fernando Street access ramp for the Binondo-Intramuros bridge has yet to be completed. From Rentas Street to Juan Luna Street, there is already an access ramp in place.
An overview of the Binondo Intramuros Bridge Project
The Department of Public Works and Highways or DPWH is certain that the inauguration of the Binondo-Intramuros Bridge Project would have an immediate effect on relieving traffic, particularly with the recent Holy Week and with many employees beginning to work on-site as Metro Manila went back to Alert Level 1.
The President Rodrigo Roa Duterte administration's Build, Build, Build program expects this major infrastructure project to assist about 30,000 cars each day as they travel between Manila, the capital city of the county, popular areas namely the Intramuros and Binondo districts. Apart from this, for cyclists, the bridge also has a designated bike lane, as well as a separate sidewalk for walkers, to promote the use of non-motorized transportation methods.
The Binondo-Intramuros Bridge Project is a 680-meter two (2) way four (4) lane bridge linking the historic neighborhood of Intramuros at Solana Street and Riverside Drive with the lively sector of Binondo at Rentas Street or Plaza del Conde Street and Muelle dela Industria was built.
China Road and Bridge Corporation, which received a subsidy from the Chinese government, had been awarded the contract for the project. According to DPWH, the major bridge over the Pasig River, with its basket-handle linked steel arch, is intended to become a new emblem of the long-standing friendship between China and the Philippines.
The Unified Project Management Office or UPMO Roads Management Cluster 1 (Bilateral) was in charge of the project's implementation under the direction of Project Director Benjamin A. Bautista, who is assisted by Project Manager Melchor Kabiling.
The new bridge was built with new bridge adopted new project techniques using prefabricated bridge parts and high-performance materials imported directly from China. In addition to this, with the aim of withstanding earthquakes of high size, the new bridge adheres to seismic rules, criteria, and specifications established by the Department of Public Works and Highways.
As the "Achilles' heel" of Philippine economic growth, the lack of infrastructure has long been noted in comparison to other nations in the area as a major concern. After taking office in 2016, President Rodrigo Duterte modified the pace of infrastructure investment by enhancing key infrastructure projects and tripling the budget from the most recent government.
We can remember that President Rodrigo Duterte proclaimed in his State of the Nation Address in 2017 the government goal to make his years in office and beyond the "Golden Age of Infrastructue" and to construct as many buildings to promote mobility and connection, which in turn would drive economic development across the nation.
According to the National Economic Development Authority's Philippine Development Plan or NEDA, the initiative "Build, Build, Build" seeks to maintain inclusive economic development, create new employment, and enhance living conditions in both urban and rural areas under the supervision of the Department of Public works and Highways.
According to President Duterte's campaign for regional development, there can be no relief from traffic and congestion in cities until the economic activity is spread out more widely throughout the nation.
One of the priorities of the Build Build Build Project is for the EDSA Decongestion Program which consists of 25 projects, including 14 expressways that reach more than 120 miles, and 11 bridges that span more than 9.5 miles.
EDSA Decongestion Program
DPWH Secretary Mark Villar initially said that the Php 384 billion initiative will offer alternate connectivity between key thoroughfares and increase the number of useable highways, a move that is expected to alleviate the persistent traffic issue along Edsa and other important roads in Metro Manila.
The road or expressway projects included in the EDSA Decongestion Program are the following: NLEX Harbor Link Segment 10, NLEX Harbor Link R-10 Exit Ramp; NLEX-SLEX Connector Road; Radial Road 10; NAIAX Phase II; C-5 South Link Expressway; Mindanao Avenue Extension (Segment 2C); NLEX Harbor Link, Segment 8.2; Samar Street; Metro Manila Skyway Stage 3; Southeast Metro Manila Expressway, C-6 (Phase I); Fort Bonifacio-Nichols Road; and Laguna Lake Highway.
On the other hand, the EDSA Decongestion Program's current set of bridge projects includes the following:
Bonifacio Global City-Ortigas Center Link Road Project
A four-lane bridge over Pasig River and a 4-lane viaduct structure on Lawton Avenue to Bonifacio Global City and the ramp before Kalayaan Avenue in the City of Makati are part of the Sta. Monica-Lawton Bridge project.
Estrella-Pantaleon Bridge
For a total length of 506.46 meters, the four-lane bridge project has an approach road of 50.5 meters on Estrella Street, an approach bridge of 60.6 meters in Makati, an approach bridge of 146 meters in Mandaluyong City, and an approach road of 243.96 meters on Barangka Drive connected to Pantaleon Street in Mandaluyong City. This bridge can accommodate about 50,000 vehicles daily.
Pasig River and Manggahan Floodway Bridges Construction Project (3 bridges)
The North and South Harbor Bridges in Manila's port region is the first priority project. With a 300-meter-long main span and a 799-meter overall length, the project is intended to be a two-way, four-lane bridge that can accommodate more than 5,800 vehicles per day after its completion in 40 months.
This bridge connects Pasig and Cainta through the Manggahan Floodway's Eastbank-Westbank Bridge. It will have a primary span of 258 meters and a total length of 933 meters for the two-way, four-lane bridge. Once construction is complete, it will be able to handle more than 18,000 cars per day when it is fully operational.
The third bridge in Manila that crosses the Pasig River, the Palanca-Villegas Bridge, is a two-way, two-lane bridge that spans 225 meters and has a main span of 100 meters. The bridge will be able to transport approximately 2,900 cars per day when it is finished after a 26-month building phase.
Marikina River Bridges Construction Project (3 bridges)
These three (3) bridges have a total span of 3, 023.60 meters that are composed of the following:
Marcos Highway-St. Mary Avenue Bridge
This bridge will span 1, 606.30 meters and costs Php 1.690 billion
Homeowner's Drive-A. Bonifacio Bridge
This bridge will span 691 meters and costs Php 2.097 billion
Kabayani Street-Matandang Balara Bridge
This bridge will span 726.30 meters and costs Php 2.641 billion.

Try our Home Loan Calculator
Loan Calculator
Try Lumina Homes' loan calculator and get an estimate computation for your preferred Lumina property and home model.