Make the Most Out of Your Quarantine Life With These 10 Fun Hobbies to Ease Difficult Times
19 October 2021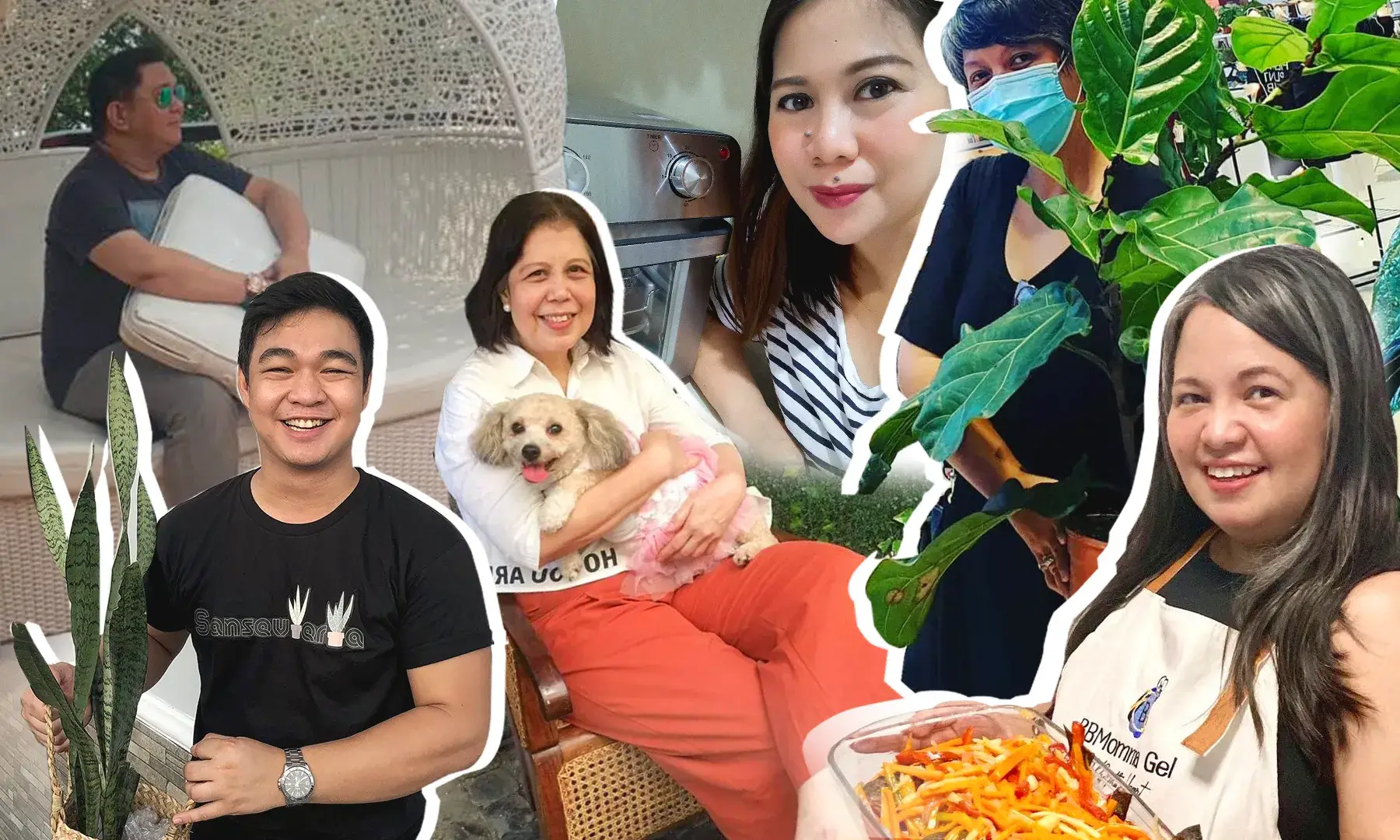 Given the amount of time you've spent at home, we're sure by now you've experienced either boredom or burnout. Life in quarantine is surely difficult, and we understand how dreadful it is to be stuck at home and see the same corners 24/7. But you see, we can turn the table around with new hobbies and learning that we didn't think we'd love.
If you have no idea what to do with all this extra time on your hands, now is a good time to pick up a new hobby or rediscover an old favorite. Here we've rounded up all the hobbies Filipino bloggers and influencers have picked up during quarantine that can inspire you!
1. Planting
Admit it, whenever you see lush greenery or hold a flower bouquet, you are immediately filled with joy, and you feel calmer. This is because plants, whether indoors or outdoors, are beneficial to physical and mental health, and science can attest to that.
In fact, according to Affinity Health, "a 2007 study found a bacterium in plant soil called Mycobacterium vaccae that triggers the release of serotonin, which lifts mood and reduces anxiety. Therefore, interaction with indoor or outdoor plants can alleviate symptoms of depression."
Lifestyle blogger Adae Ang shares, "the pandemic reunited me with my relationship with my neglected plants. I was able to spend more time caring for them as they also serve as my stress-reliever. I'm just grateful for everything since God made everything with its purpose."
As for blogger Arvic Inosa, his love for plants grew during the quarantine. "I learned how to wait until it grows. Having plants in my home is both happiness and a hurdle. Since you have to look after the plants every single day and make sure that they are fed well. The key is to be consistent in feeding them and always look after the lighting, humidity, and weather conditions a certain plant needs."
2. Play with pets
A tough day at work, kids fighting over a toy, piled undone dishes on the sink—who wouldn't be stressed, right? If you've got fur babies at home, then you're in for a treat. Not only do pets serve as a reliable companion, but spending time near them reduces your stress level. Plus, actively petting your pet further eliminates feelings of stress and anxiety.
"I actually learned so many things from the start of the pandemic up to date. One, I developed my love for dogs. I never thought how much happiness a dog companion can give me, pure love," shares lifestyle blogger Adae Ang of Adae2Remember.
Myrna Roma of Enjoying Wonderful World, a fur mom of three, said "Here, quarantined at home, as most people remain stuck at home, many of us are already starting to feel the effects of lockdown, social distancing, but life is different with pets. Staying at home to be strong, healthy, active mentally, and safe. Every day we need something positive to lift our spirits.
They bring so much joy and optimism, and happiness. And one, a small fur baby, Chummy, that gives me companions every minute of the day.
Home is where our fur-babies are. Our fur-babies hold a special place in our hearts. They're the most loyal, loving, and understanding friends. They're our besties, our roommates, our therapist, our cuddle-buddy after a long day, a consistent source of laughter."
3. Cooking
Dining out these days can be risky for your health, so it's no surprise that cooking and baking have become one of the most famous quarantine hobbies. If you think cooking is not for you, don't worry, you're not alone. But give it a chance and see how it turns out. Whether you want to recreate your favorite ulam or the dessert you are craving, homemade dishes are much more delicious, rewarding, and affordable. Some bloggers also share the same love for cooking during quarantine!
Abbi Robles of Brown Republic shares that one of the best things she learned while in quarantine is to improve her cooking. "For me, the best things I've learned while in quarantine, is to improved my cooking, have many time for my kids and spent my whole day to teach them on his/her online classes."
As for Gel Jose of Jellybeans in the City says that she learned the value of mise en place or "everything in its place". "When cooking complex dishes, it is important to already have the ingredients and equipment you need prepared and arranged logically in your work counter so that the actual cooking proceeds smoothly and without needless interruption," Gel adds.
Czjai Reyes-Ocampo of The Rebel Sweetheart also shared, "I've always loved cooking, but since the pandemic started, and with all the lockdowns that we've been through, I have come to love home cooking twice as much. I also learned how to bake bread and pastries thanks to my airfryer oven, experiment with various recipes, and even cook Korean food since we can't travel to Korea because of the travel restrictions. Cooking has brought me such joy, all the more because I'm doing it for people that I love."
4. Painting
Painting is not for the pros only. Whether you want to paint by numbers or try a more challenging art, painting is therapeutic. Even if you think you're not good at it, painting is a way of expression, so whatever you do, it's going to be beautiful. So, just do it.
5. Start a DIY project.
Whether it's sculpting, gardening, calligraphy, or jewelry making, learning a new creative skill will definitely be entertaining and beneficial for your mental health in the middle of a pandemic. If you're not into arts, then maybe find some things in your house that need fixing and do it yourself. If you don't know how to do it, YouTube and Google are just a few clicks away. Plus, there are lots of online communities on social media that share their tips and own experiences in fixing or building a home. For sure, you will find a community best for you.
6. Practicing yoga
If you are not the type of person who's game for some extreme cardio or weightlifting, then yoga must be the ideal workout for you. It is a great workout that combines physical and mental exercises. Yoga improves flexibility, muscle strength, and respiratory health and aids in weight loss.
The great thing about this workout is that it does not just benefit your physical health but also your mental health. You don't actually have to be a "yogi" to do this. Even if you think your body is not fit for all the splits, twists, and balancing, you will be able to learn it eventually. As the saying goes, slowly but surely.
7. Meditating
Don't like yoga? Just try meditating. It's important to be mindful of your surroundings as well as your well-being, especially while you are in quarantine. Meditation may also help you get a bit of peace of mind in times of uncertainty.
According to Mayo Clinic, "meditation can give you a sense of calm, peace and balance that can benefit both your emotional wellbeing and your overall health. And these benefits don't end when your meditation session ends. Meditation can help carry you more calmly through your day and may help you manage symptoms of certain medical conditions."
If you are ready to try it, go find a quiet space, light some candles and clear your mind with some therapeutic meditation music. If you feel like there is too much going on already and you need some peace of mind, meditation is one of the best things you can do right now to relieve stress and improve your well-being.
8. Knitting
Who says knitting is only for old women? Thanks to social media, knitting is threading its way (pun intended) to popular culture that many people, especially teens, are fascinated with. So, gone are the days when knitting was for the grandmas, as when the pandemic hit, it already became mainstream. Besides, not only will you spend your precious time on something worthy, but you will also have a knitted sweater at the end of the day (or week). And when you are finally in the groove of threading, buying clothes will never be the same again. 'Cause, why would you buy a piece of clothing with an expensive price tag when you can make it after a few weeks while entertaining yourself in quarantine, right? Love your own! It feels more rewarding when it's the fruit of your own labor.
9. Reading books
Time to revisit your shelf and take out all the books you were not able to read pre-pandemic due to your busy work schedule. Whether it's a new book or an old one you've read before, reading books should definitely be on your list of quarantine hobbies to try. It is a good hobby because reading exercises your brain, expands your vocabulary, enhances your imagination, and of course, it entertains you.
10. Spending more time with the family
Ever since the COVID-19 pandemic hit, many people across the globe have been just working from home to avoid spreading the virus. This means that people have more time to spend with family. If you were too busy before, repay those missed moments now and try doing fun activities with your kids, parents, or siblings. Check out what some bloggers have to say about it:
Abbi Robles adds that one of the best things she has learned during quarantine is to have more time for her kids and spend her whole day teaching them for their online classes.
"I would say the best thing I learned to do while in quarantine is to be in tune with my kids, understanding more how their mind works. Since I'm a working mom, most of my day pre-pandemic is spent away from them. Now that I'm working from home, I get to see their quirks and behaviors a lot more closely because we're spending more time together. I now get what triggers certain emotions from them, and even if they don't say what they feel, I know better how to respond to them," Mommy blogger Michelle Roldan of Hits and Mrs PH shares.
Bonus! Setting a "friends' night out" virtually.
Just because we can't spend the usual night outs anymore doesn't mean we can't have fun with friends during the quarantine. Because of the travel restrictions and health protocols, many of us can't hang out with our friends, and it leaves us wondering what they are doing or if they miss us (clingy much?). But hey, with the advent of technology, everything is made possible, even having an inuman session, or should we say e-numan session, with your friends!
Make some time to catch up and schedule a virtual drinking party. Reconnect with the people whom you haven't seen in ages. You see, this pandemic surely gave us difficult times, but it also gave us the gift of time, so use it to your advantage. A simple "how are you?" or "I miss you" message will make your loved one's day already.
The pandemic has made our lives challenging, but in the middle of it all lies good things... good things that made us more resourceful, innovative, giving, and grateful. So to end this, we will leave you with inspiring learnings that some bloggers have shared with us.
Emmanuel Damian of The Tennis Foodie Blog
"I have learned the power of innovation and resilience. Some of my plans didn't work, so I had to pivot my initial plans to adapt to the new normal. With my startups, I had to change some of my plans and cater to what the customers need. For my blog, I had to resort to deliveries and meal preps so I could maximize my work from the home set-up. I have also learned to practice more empathy for those in the food industry. I have seen their struggles and experienced it along with them. My respect doubled for all of them. Secretly, I donated some masks and personal hygiene kits to some of our adopted restaurants and did a fundraiser for Grab and FoodPanda drivers. It's a little thank you for all their hard work along with the frontliners."
Chrizelle Lumba of Chryzhpontaneous Home Blog
"To be more efficient and productive in everything that I do, but taking one step at a time. I've learned to be more resourceful to help my family since I'm the head of the family. I make it a point to also check on my relatives, especially my closest ones, and extend whatever help I can offer to them during this pandemic."
Jowell Juanillo of Flingeros Philippines
"Learn to live and enjoy each day with a zealous attitude coupled with much joy, positivity, and hope for a brighter future. It is also the perfect time to reaffirm relationships with my friends and family. It is OK to learn new skills, but what is important now, especially in this uncertain time of the pandemic, are the relationships you have with the people who matter the most to you."
Related Articles:
***
For more information about the affordable house and lot for sale of Lumina Homes, please contact (0917) 629 6523.

Try our Home Loan Calculator
Loan Calculator
Try Lumina Homes' loan calculator and get an estimate computation for your preferred Lumina property and home model.